Utah Jazz coach Jerry Sloan has signed a contract extension through next season. Posted by Ben Golliver.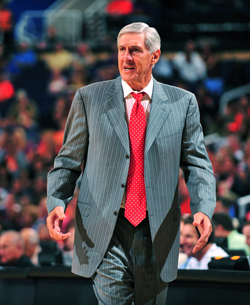 If
LeBron James
is the face of the new NBA, then surely Utah Jazz head coach Jerry Sloan is surely the standard bearer for the old guard, a no-nonsense, straight-talking, eat-dinner-in-the-media-room, by-the-book man who has refused to cede much, if any, ground as the game has evolved over the last few decades.
So set in his ways, the 68-year-old Sloan would border on being a caricature if he wasn't so pristinely authentic, not to mention intimidating.
NBA.com's repor
t on Monday that Sloan has inked a contract extension for next season but sat on the news for weeks just adds to the man, the myth, the legend.
"I've already signed a contract for next year," he said after shootaround at Arco Arena in preparation for tonight's game against the Kings. "That's been since, maybe, around the first of the year. I don't remember what the date was on it. I never pay any attention to it. They offered it to me and I signed it."
"I didn't need an announcement," Sloan said. "Hell, it's not a big deal to me. And I don't know what it does. Either one of us can go the opposite direction. I've been around long enough and they've been around long enough to know if they want to get rid of me, that's all they have to do."

Call that the Un-Decision. He delivers the news as if he's getting his teeth pulled rather than kicking off a summer-long party tour.
Since 1988-1989, Sloan has patrolled the sidelines for the Jazz, overseeing the John Stockton / Karl Malone era and a relatively smooth segueway into the
Deron Williams
era. With the exception of one year -- 2004-2005 -- Sloan has had his small-market, financially-prudent clug above .500 every single season. That's an amazing feat, a poor man's NBA coaching equivalent of a Cal Ripken Jr. type of accomplishment.
Sloan rightfully took his place in the NBA's Hall of Fame in 2009 and, perhaps most remarkably, hasn't shown any signs of slowing down.