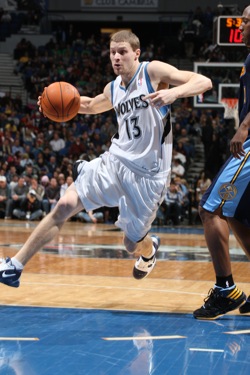 Posted by Royce Young
The
Knicks
have been hunting for a backup point guard for some time now.
And as Ken Berger of CBSSports.com wrote yesterday,
a candidate for some time has been
Sebastian Telfair
. The Wolves are said to want
Anthony Randolph
back in the deal who has been sitting for the most part on the end of the bench in New York.
Except it looks like the Knicks are more interested in the player Minnesota isn't that comfortable giving up. As Berger wrote yesterday,
Luke Ridnour
is off the table in trade talks with New York,
but a report from Newsday says
that the Knicks would consider moving Randolph if the deal included Ridnour, or a draft pick instead of Telfair.
What, Bassy Telfair ain't good enough for you, Donnie Walsh?
But you can certainly see New York's side of this. Randolph is a talent. No matter what he's done so far, the dude's talented. And as badly as the Knicks want a backup point guard for
Raymond Felton
, they aren't ready to just settle on Telfair for Randolph. The Wolves have stockpiled a good number of draft picks over the past year or so, so maybe this is where Walsh says he can get that first-round pick from. And as any good general manager should, he has his eye on the better player in Ridnour, instead of Telfair.
Telfair has played a decent amount so far this season, appearing in 25 games and averaging just over 20 minutes. But the reason he's seen even that much playing time is because
Jonny Flynn
has been out with the hip issue. Now that Flynn is on his way back, Telfair is going to find the end of the bench a bit more.
Ridnour has played a bit more of a central role, starting in 25 of the 28 games for the Wolves. He's having a very Ridnour-like season, averaging over 11 points and five assists. He's always been a poor man's
Steve Nash
so Mike D'Anonti probably would love to get him into New York's system.
This is just another one of those crossroads for David Kahn. Telfair is obviously the player he'd rather deal, considering Ridnour was a free agent signed in the offseason. And is Randolph worth that and a pick? Maybe. The thing Kahn has to consider is that including
Ricky Rubio
, he's got like 18 point guards under contract right now. All of them can't play at once.
But maybe this is an opportunity for Minnesota to add more straight talent. The Wolves acquired another gifted lefty in
Michael Beasley
for a measley second-round pick but it's going to take more from New York because the Knicks aren't trying to dump anything and everything like the
Heat
.
Again, Berger said right now, Ridnour is off the table. But at some point, Kahn might have to reconsider.