Posted by Royce Young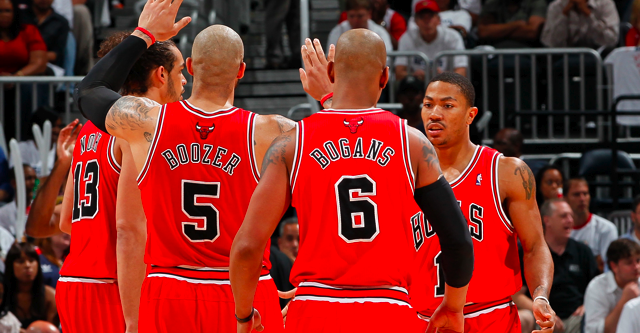 The
Bulls
finished off the
Hawks
in six games with a 93-73 win in Game 6 in Atlanta. It was a Chicago clinic of defense, quality offensive execution, strong rebounding and really good stuff from
Derrick Rose
. Also,
Carlos Boozer
did something for once.
Let's hand out some grades.
Bulls:Derrick Rose:
In terms of shooting the ball, Rose wasn't great. He hovered around 40 percent took too many 3s. But he averaged 29.8 points per game in the series and provided the Bulls with just enough offense to get it done. I don't think anyone would say he was spectacular at any point, but he was most definitely always good. His 44-point, seven assist Game 3, though, was certainly something special.
Grade: B+Carlos Boozer:
It was almost as if Boozer was trying to redeem himself with a great Game 6. At one point during the series in Game 1, Chicago fans actually had booed Boozer for his failing to produce. He finished the series averaging 13.3 points and 8.8 rebounds per game on solid percentages, but the way he checked out in Games 2 and 3 were what concerned people. Maybe he's just now getting healthy, because he certainly looked good in Game 6, putting up 23 points and 10 rebounds.
Grade: B-Tom Thibodeau:
The NBA's Coach of the Year gets a gold star for his brilliant move of letting
Taj Gibson
and
Omer Asik
finish out Game 5 for the Bulls. Most coaches would come back to their higher paid starters, but Thibodeau saw something in that second unit and rode them to the end. It paid off too, as Gibson put up 11 points in the quarter to squash the Hawks. The Bulls finally started showing consistent signs of being that feared 62-win defensive juggernaut in this series, and I think Thibodeau is getting them back into their style.
Grade: AThe Chicago Bench:
The role players always play a really key part for the Bulls because they have to spread things out a bit. When their bench is scoring and producing quality, productive minutes, they are really tough. Game 5 was a great example of how good the second unit can be, and they showed up again in Game 6. Somewhat inconsistent, but that's bench play in general.
Grade: B+Hawks:Joe Johnson:
The Hawks did an admirable job of pushing the Bulls in this series and took a surprising Game 1 because of a stellar performance from Johnson. And that's what it was going to take for the Hawks to pull this out. Johnson was going to have to rise to another level for at least four games and carry the Hawks. He wasn't able to. He was good in the series (19.7 ppg on almost 50 percent shooting), but he needed to be excellent.
Grade: BJeff Teague:
In terms of the future, the best thing that happened to the Hawks may have been
Kirk Hinrich
's injury. It gave Teague a chance to shine against the league's MVP and maybe prove he can be the Hawks point man of the future. In more than 229 minutes, he only turned the ball over seven times against the Bulls ball-hawking defense. He also had three games of scoring 21 points. Stepping up in such a big spot, he did a great job.
Grade: AJamal Crawford:
Much like Johnson, the Hawks needed something big from Crawford in at least four games. And he just never really showed up. He absolutely killed the
Magic
, but was a non-factor in five of the six games. It's is bad news when he's the team's X-factor. He averaged just 10.3 ppg on 35 percent shooting and never really got much going for Atlanta.
Grade: DAl Horford and Josh Smith:
Matching up against Boozer and
Joakim Noah
, the interior battle had the feel of being where this series would be decided. Horford had just one good game, while Smith, despite being widely criticized for shot selection, turned a pretty solid series. Together, they needed to be better on the glass and defensively on the inside. Combined, they averaged under 25 points and 20 rebounds a game. That just didn't cut it:
Grade: C+