Chris Bosh leads the way (?!) as the Heat close out the Sixers and advance to meet their destiny versus the nemesis, the Boston Celtics.
Posted by Matt Moore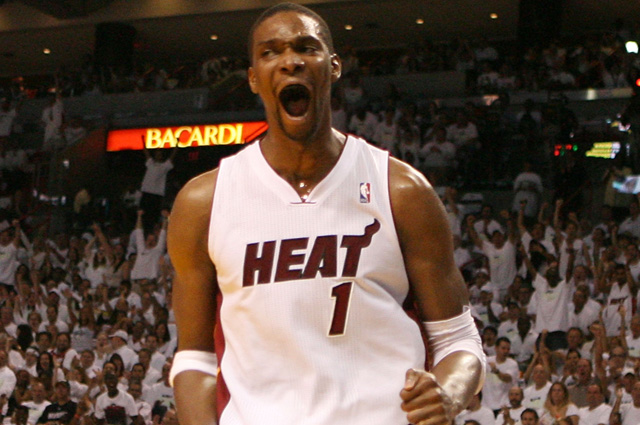 It wasn't pretty, it wasn't perfect, it was closer than it should have been. But the Heat have closed out the Sixers, and advance to the second round. The clutch hero was naturally...
Joel Anthony
?! Moving on, here's how this series wrapped up.
Series MVP:
Chris Bosh. Who would have thought the most-criticized of the Triad would step up like this? 19.8 points per game for Bosh, and he finally showed the kind of aggression you would have hoped to have seen more of this season. Bosh found
Elton Brand
at the elbow, and Brand was too old to match him in speed, and not big enough to match his length. Bosh was consistently aggressive, and it paid off. The Sixers were supposed to have a better set at the 4-5 matchup, and instead, Bosh, alongside Joel Anthony, turned it. Like a Bosh.
It was over when:
Game 2 when the Heat blew them out. The Sixers had shown life in Game 1, but Game 2 really showed that the talent differential was too great. The seeds of doubt were cast then. The Heat made the statement and it held through for a five-game win.
Goat of the Series:
Andre Iguodala
. Iguodala had his best game of the series in Game 5, but also shot 32 percent in the other four games. And on the key possession for the Sixers late in the game, after nailing huge shot after huge shot, Iguodala missed a pull-up jumper. The Sixers needed Iggy to take it to another level in this series, which was obviously a tough matchup. That's the playoffs, though, and he couldn't get it done. Iguodala will be a superb 2nd to 3rd best player on possibly a championship team. But as "the guy" he's just not a good fit.
Going forward, the Sixers should:
Feel good about the progress they've made. Their first year under Doug Collins they made a miraculous turnaround, made the playoffs, won a game, and developed some good young talent. It may be time to cash in Iguodala as a building block and move towards
Evan Turner
. Especially after Turner's performance in the playoffs, dealing Iguodala makes sense, and would net them a huge array of talent.
Jrue Holiday
looks legit, as does
Lou Williams
, and Turner. With Brand getting back to decent performance, even at his age, a better starting center would set their future up nicely. They still need a star player, but sometimes the search for those takes time.
Going forward, the Heat should:
Be grateful they didn't blow this one. Pushing this to a Game 6 in Philadelphia would have sent up "Oh My God, the Heat are choking again!" panic attacks. They now get time to prepare for Game 1 against Boston on Sunday. And they're going to need it. The Heat had so much momentum going into Game 4 and lost some of it. Even Game 5 felt like more of an exhalation than a victory roar. The Heat took care of business. Now the real playoffs begin for them.
Winners:
Dwyane Wade
, Chris Bosh, Joel Anthony,
Mario Chalmers
, Doug Collins, Jrue Holiday, Elton Brand,
Thaddeus Young
Losers:
LeBron James
, Andre Iguodala,
Zydrunas Ilgauskas
,
Spencer Hawes
,
Mike Bibby