The Los Angeles Lakers defeated the Toronto Raptors on Friday night thanks to some clinical late-game execution. Posted by Ben Golliver.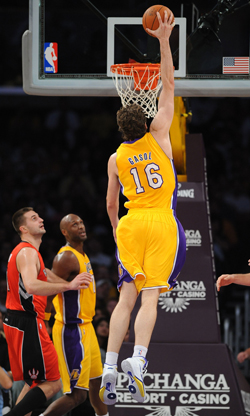 Friday night in Los Angeles we learned once again that a disinterested, more talented veteran team can hold off an upstart, motivated younger team simply by virtue of reliable late-game execution. The undefeated Los Angeles Lakers (6-0), who at times looked like they were going through the motions, received a solid test from a struggling Toronto Raptors team (1-4) that played like they have nothing to lose, because they don't. A monster 38-point second quarter put Toronto on top at halftime, but the Laker attack continued to churn and churn and churn down the stretch, and the Raptors, despite receiving double-digit contributions from six different players, simply could not keep pace. This game turned on identity. The Lakers know themselves so well it's probably annoying. Their fourth-quarter offensive plays were as bread-and-butter as it gets. Baseline jumper from point guard
Derek Fisher
. Free throws from guard
Kobe Bryant
, who finished with 23 points, four rebounds, six assists and three steals. Eight fourth-quarter points from
Pau Gasol
, who played entirely above his Toronto opponents on his way to 30 points, seven rebounds, three assists and two blocks. His points came about as efficiently as possible: two close-in looks and four free throws. On the flip side, the Raptors couldn't consistently get winning looks at the hoop, and they couldn't keep track of possession when it mattered most. During the final eight minutes of the game, Forward
Amir Johnson
missed a number of contested attempts near the rim, wing
DeMar DeRozan
was whistled for a careless charge, point guard
Jose Calderon
had a sloppy turnover, post
Andrea Bargnani
settled for multiple jumpers, and DeRozan and guard
Leandro Barbosa
both settled for, and missed, contested 3-point attempts. It felt, at times, like directionless abandon, with both everybody and nobody stepping up for the Raptors offensively. Aside from a meaningless
Jarrett Jack
3-pointer as time expired, the Raptors were outscored 18-14 in the final 7:57 of the fourth quarter. In a nip-and-tuck affair, that was your ballgame. Chalk up another win for a strong title contender and put this in the books as another learning experience for a lottery-team.