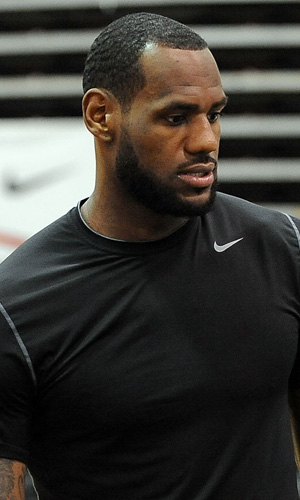 Posted by Matt Moore
What logic does this make? What possible sense could this be built from? What line of thought would take him down this road?
LeBron James
bought ad space in
the Akron Journal to thank fans
there and send a message that his heart is still there. It was a decent gesture that should have been made weeks ago. The day after "The Decision," actually. But what was missing from the letter is what was most relevant.
The word "Cleveland."
Andrew Sharp of SBNation.com
weighs in on why this shouldn't be a big deal. And he's right. It shouldn't be a big deal. It shouldn't be a deal at all. It could have been a non-story, something marginal that takes even a half-pinch of sting off the mountain of anger and resentment from Cleveland towards a player attempting to become the most popular brand in NBA history (and failing miserably, but that's another issue). But it wasn't. And that's the question that needs to be asked.
What possible reason did LeBron James' camp have for not including the Cavs or Cleveland in this letter?
Sharp points out the myriad of reasons for James to slight Cleveland like this. Jerseys burned. Angry letters in Comic Sans. General hatred upon his departure after years of trying to make Cleveland into a winner. And those are all great reasons for someone to spite the city like that.
If that person is fourteen years old.
This is a business. That was the reason behind James' defection to Miami, behind "The Decision," behind all of this. This whole ordeal was meant to be the extension of James as a business entity in the world. And the business move here? The plain-clothed mention of gratitude to the state of Ohio, Cleveland, the Cavs, something that includes those people. Sharp's also right that it wouldn't have made anyone in Cleveland feel any better. But the point is that slighting them makes them feel worse. It makes James seem petty and small. It's not professional. Taking the high road isn't a noble cause, it's a protecting your Q Rating and shoring up your PR image. You don't do it to try and win back friends and make people love you. You win championships to win friends and make people love you. You take the high road to protect your interests and not make another blunder. And that's what James has done.
Maybe he's got a letter for the Plain Dealer and is just waiting to release it. But now if he does, it looks like a reaction to the scorn he's getting for ignoring Cleveland. This is not complex stuff. And it's yet another indication in a long stream of tiki torches that blaze a path to the same conclusion: LeBron James' management team, LRMR, is desperately out of its league and playing at a level it cannot compete at.
It's not that James was wrong for snubbing Cleveland. It's that it was just another bad business decision.