Posted by Ben Golliver.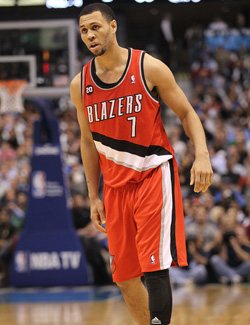 PORTLAND, Ore. -- The league's toughest amnesty clause decision has apparently been made.
The Oregonian reports
that Portland
Trail Blazers
president Larry Miller announced Monday that the team will not use the amnesty clause on guard
Brandon Roy
unless he suffers an injury during the preseason prior to the deadline to waive players, which is still unknown.
"Our plan right now is not to use the amnesty," Miller told the paper. "We expect Brandon to be a part of this team when the season starts. He has been there for us, and we want him to know we are supporting him. [Owner] Paul [Allen] is on board with this and feels the same way.'"
The news comes just hours after Miller, Acting GM Chad Buchanan and coach Nate McMillan held a press conference in which they stopped just short of pledging that Roy, 27, would be back on the team.
Instead, the three men told reporters that they met with Roy, who is owed more than $63 million guaranteed over the next four seasons, and his agent, Greg Lawrence, face-to-face in Portland on Monday. The Blazers trio agreed that they were impressed by Roy's attitude and said that they were planning to see Roy in camp with hopes that he would be on the opening night roster.
"Brandon is in a great spot," Buchanan said. "I think he feels good. [He's] excited about the season."
Buchanan later added that it would take a "drastic change" for the Blazers to decide to waive Roy and that the team was approaching free agency with the understanding that their flexibility would be "limited" by their position in the luxury tax, a spot they could have avoided by waiving Roy.
Miller, meanwhile, spoke glowingly of Roy's mental and physical outlook.
"One thing that Brandon said today was that he feels much better coming into this season than he does coming into last season," Miller said. "His knees feel much better."
Roy underwent arthroscopic surgeries in both knees during the 2010-2011 season and played just 47 games. Following the surgeries, Roy moved to the bench and saw his minutes fluctuate. He posted career-lows in points, rebounds and assists last season.
"I think he had enough time off resting his knees [and] he went through his normal workout routine up in Seattle with NBA players, college players," Buchanan said. "He just made the comment to us that he feels really good right now. He's tested his knee in workouts, it feels very strong, he feels a lot different this year heading into camp than he did last year and he's very encouraged how his knees feel right now."
McMillan told reporters that Roy will be operating without minutes restrictions and that he hopes Roy will move back into a starting two guard role, although he noted that Roy told the Blazers taht he would be open to a reserve role if necessary.
"One of the things that you have to look at is Brandon going back into that starting lineup," McMillan said. "That's something you didn't see last year due to medical reasons. Brandon is feeling better so Brandon back at the two position is something that I'm leaning towards and making our adjustments from that."
Reports had surfaced in recent weeks that Allen had already made the decision to waive Roy. Miller denied that during an informal press conference last Wednesday and multiple team sources disputed the report in various ways, including on Twitter.