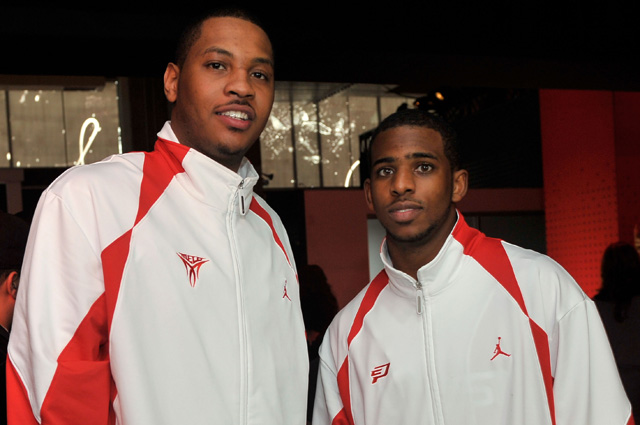 By Matt Moore
In the last year, CAA flexed its muscles as the most powerful sports representation entity in professional basketball.
LeBron James
staged "The Decision," which was a PR disaster and a global branding success.
Chris Bosh
, James, and
Dwyane Wade
got what they wanted, to team up where they wanted for basically as much as they wanted.
Carmelo Anthony
staged a year-long siege on Denver's future, eventually working his way not just out of the team he wanted out of, but to the team he wanted to play for.
Chris Paul
flexed enough muscle to get help in getting the
Hornets
back to the playoffs.
Tony Parker
signed a hefty new extension.
The lockout is here, now, and everyone's evaluating their options. Yet for some reason, CAA hasn't taken the active step in pushing things to the next level in a crucial opportunity to expand their brand in Europe or China. We're starting to see signs that some of their clientele may head over, though. From the AP:
Chris Paul and Carmelo Anthony say they will consider offers to play professional basketball in China if there is no resolution to the NBA lockout.

Both players are on a promotional tour of China while monitoring news from home about the NBA's labor impasse.

With Kobe Bryant reportedly negotiating a deal to play in Turkey, New Orleans Hornets' Paul and New York Knicks forward Anthony said they were also considering overseas moves.

Asked by SNTV where they would go, Anthony replied "China." Paul said "Same, no question."
via
Paul, Anthony say they will consider playing in China - NBA - CBSSports.com Basketball
.
Now,
Ken Berger of CBSSports.com says that the players should cool it with their globetrotting
and go beat down the league's door to get the lockout resolved, which is a nice pipe dream. But considering that A. there's a concern in the union,
expressed by Paul
, that the talks should represent the whole of the union and not just the superstars and B. let's face it, this is professional sports, it's every man for himself except where launching lawsuits like the NFL did helps your cause, it's not just unlikely, but likely untenable.
Setting aside the morality questions regarding these players' behavior in a lockout, let's examine the business side of it. CAA is in a unique situation, with its ties to Nike through various sources including but not limited to William Wesley, along with other sponsors, to put together a traveling exhibition tour through China that would fit perfectly with their roster. It would expand their brand in that market, both as a sports entity and the players individually, generate a metric ton of revenue, and would be able to be done according to the wishes of the players. Don't want a coach? Don't need one! Want to be able to cancel a tour date within three hours of the event? Done! They would be able to set all parameters and as a result, have the control they want, using CAA's leveraging power to act as a shield for the players.
LeBron James
is already said to have decided
to pass on playing overseas. This decision is pretty baffling, given James is the one star with the biggest goals for global domination. China is part of the gateway to obtaining the brand power of Kobe Bryant, yet James hasn't fully invested himself there, like, say, Carmelo Anthony has. Anthony filmed a movie last year in China and has followed Bryant's suit in establishing himself there, along with
Dwight Howard
. James would do well not to think himself having already conquered the market with his Beijing stint in 2008. But collectively, CAA could simply overwhelm with the amount of revenue they would generate from spearheading such an effort. In addition, that would leave more opportunities for other players overseas, which strengthens the union's position.
So why isn't this happening?
Because apparently getting NBA players to commit to anything on that kind of level is like herding cats. CAA can get three superstars to commit the next five years of their careers (at least) to each other in the same city, but can't get this kind of thing organized. Such are the complexities of global domination. Hannibal never had this problem. Maybe they need more elephants.