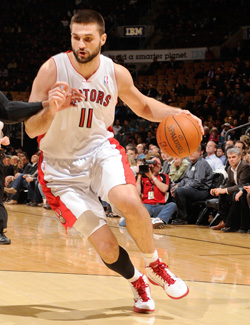 Linas Kleiza is out for up to a year after microfracture surgery.

Posted by Matt Moore
Think of it this way, Raps fans. It could be worse.
You could be Clevleand.
The
Raptors
announced today that Linas Kleiza is out for nine to 12 months following arthroscopic surgery to repair both a meniscal tear and what's called a chondral tear,
which sounds pretty bad
. Another name for the surgery? Microfracture.
The Raptors gave Kleiza a four-year, $18 million contract this summer to lure him back from Greece, only to watch him struggle under expectations and the apparent injury. The result is that Kleiza is lost as a trade chip should the Raptors elect to pursue a drastic move before the trade deadline. A versatile scorer with experience on the wing with a movable contract is something that can be used in a number of deals, but now that option's out the door.
Kleiza's absence also means it's likely the Raptors will have to turn to more small-ball lineups, with
DeMar DeRozan
spending time at the 3, splitting time with
Sonny Weems
.
Typically Jay Triano would have options for a bigger lineup, but they're already dealing with
Reggie Evans
' injury and recurrent injuries with
Andrea Bargnani
.
But, hey, like I said. Not Cleveland. Keep repeating that, Raps fans.
Via
the National Post
.