Posted by Royce Young
It was the blueprint that Jerry
Colangelo
and coach Mike
Krzyzewski
had set up back in July when Team
USA's
roster started to take shape. Defend, make open shots, run the floor and most importantly, let
Kevin Durant
do what Kevin Durant does.
Durant set a U.S. World Championship record for points in a game with 38, as he led Team USA to the gold medal game with a 89-74 win over Lithuania. Durant had 24 at the half and only two in the second with six minutes left in the fourth. But as Lithuania closed in on the U.S. lead, Durant took over.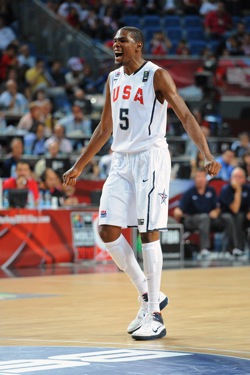 It was basically an offensive seminar for all in attendance from Durant. He hit 3s. He scored off the drive. He stepped back and hit jumpers. He got to the line. He scored 12 of the American's last 23 points. He was an impossible
matchup
for anyone Lithuania tossed out and behind Durant, the U.S. never let Lithuania really get too close for comfort.
Lithuania played mostly match up zone in the second half and tried to face guard Durant. It worked for a bit, but when Durant asserted himself and decided to take over, he did.
And while Durant is the the obvious star, the unquestioned MVP, Lamar Odom quietly put together a game that was equally important to Team
USA's
success. Odom finished with 13 points, 10 rebounds and three blocks against Lithuania's big front line, but was huge doing extra little things. He tipped out rebounds, got a hand in passing lanes and made a few wonderful passes that led to easy buckets. Odom saved probably his best game of the tournament in one that his team desperately needed him.
Because Lithuania wouldn't go away. After a first half in which they scored on 27 points and shot just 25 percent from the field, the Lithuanians poured in 26 in the third and finished shooting at 39 percent. The 3-pointers started to rain in and at two points Lithuania got the score into single-digits.
But every time Lithuania closed in and started to make things uneasy for the Americans, someone stepped up.
In the first half, with the U.S. up by eight, Lithuania had an open fast break and a heap of momentum.
Russell Westbrook
closed the gap and stopped the run-out with a wonderful block from behind. The U.S. immediately turned around and hit a 3 after it. In the second half, Lithuania had gotten it to nine. Coach K inserted sharpshooter Eric Gordon who swiftly knocked down a 3 to push the game back to 12. It was a trend we saw all afternoon and something that eventually broke the Lithuanians backs.
One thing that Coach K has done a masterful job of is keeping his players completely focused and energized. In this type of format, you fall asleep for one half or one quarter and it could be deadly. But Team USA has been intense and locked in from the beginning of every game in the knockout round. That's a huge credit to Coach K and one of the things that he does better than any coach in the world.
And it helps when you've got that guy wearing No. 5 in white. He was ready from the tip and was prepared to shoulder the load. Durant has taken this team somewhere it hasn't been since 1994. The gold medal game.
Durant stepped out of his normal humble, soft-spoken character after knocking a dagger 3 that put the U.S. up 18 points with three minutes left. He turned, looked to the vocal Lithuania cheering section, popped the "USA" on his jersey a few times, then gave them a little salute. It was a moment you don't typically see from Durant, but on September 11th with more red, white and blue pumping through his veins than usual, he couldn't hold it in. And it was a moment that probably gave most every American watching chills.
KD
was feeling it. In more ways than one.

Team USA plays the winner of Serbia and Turkey Sunday in the gold medal game.