Posted by Matt Moore
Did we overreact to the Malice in the Palace? Was it really that big of a deal when
Ron Artest
went into the stands and decked a fan who he thought hit him with a cup of soda (he didn't, some other dude did)? After all, Kevin McHale
did pretty much the same thing
in 1987. The answer of course, is no. Even if no one was significantly injured in either incident doesn't mean that the odds are good these types of things won't lead to it. There are kids in that lower bowl. Let's all agree near-riots are bad, m'kay?
While we're at it, let's keep "
don't slap assistant coaches in Pro-Am leagues
(or ever)" on the list as well.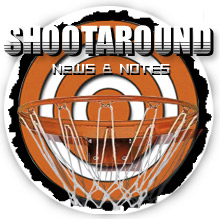 Daryl Morey
on the trade
for
Courtney Lee
yesterday: "This is a guy who we were focused on acquiring in the ('08) draft. I think, overall, the deal is similar to the
Kyle Lowry
deal. We've been trying to acquire Courtney when he went to Orlando and then he went to New Jersey and as you can tell, myself being on vacation, you can just never tell when an opportunity is going to strike. We really target players who we think will fit in well here over time and when we got our first chance to acquire him we really were obviously fairly aggressive to get this done."
Lorenzo Wright's ex-wife (who has been investigated in connection to his murder) claims he left the house the night of his murder with
drugs and money
. This story gets progressively somehow more depressing.
Carlos Arroyo
raps
! (Not well.)
Breathe a sigh of relief for the already depleted Team USA team.
Danny Granger
's
finger is A-OK
. You can pat your Pacer friends on the back as well.
Don't sleep
on
Shaun Livingston
. I can never decide if Shaun Livingston is over-covered due to his hardships, or not covered enough. Either way, the idea of him with the
Bobcats
is a pretty solid concept. Larry Brown is the type of coach that appreciates the effort that Livingston has made to recover from injury.
Chris Bosh
continues to
drive the dagger into Toronto
. It's kind of suprising. Some people you expect to behave cruelly to their former small-market comrades. But Bosh never struck me as that type. I was wrong in that assessment.
Shocking news,
Rudy Fernandez
wants out of Portland
. No, really. No kidding. Like, seriously this time. No joshing.
Brian Scalabrine
may be a coach
. No, not a dancing coach. Quit laughing. It's not funny. Not that funny, at least.