Anaheim Angels owner Arte Moreno questioned whether the Sacramento Kings should relocate to Anaheim. Posted by Ben Golliver.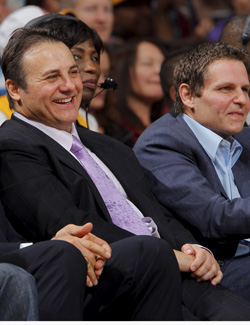 There might be a new kid on the block in Southern California soon, but none of the current residents seem very excited about getting the company.
On Saturday
, we noted that Los Angeles
Lakers
coach Phil Jackson isn't thrilled about the prospect of the Sacramento Kings relocating to Anaheim to play at the Honda Center next season.
On Sunday, the
Los Angeles Times reports
that Los Angeles Angels of Anaheim owner Arte Moreno questioned whether the Kings' relocation plan was a good idea.
"I look at the metropolitan area and say how many basketball, hockey, baseball, basketball and NFL teams can you have?" Moreno said Sunday before the Angels-San Diego Padres exhibition game in Angel Stadium. "We also have a couple of major universities in USC and UCLA. And Cal State Fullerton and Long Beach State have terrific baseball programs.
"You're competing with them for media time and advertising dollars. How much discretionary income and advertising dollars do people have? It would be silly to tell you that everyone is overflowing with advertising dollars right now. People have to decide how to spend their money. If you add another team, that doesn't mean there's going to be more advertising dollars."
Of course, the Maloof family shouldn't expect to be welcomed to Southern California with open arms by its competition.
The problem with Moreno's stretch on advertisers and market saturation arguments is that he's approaching this from the position of whether the Kings, who are rumored to be changing their name to the Anaheim Royals, can compete with the Lakers, Angels and Dodgers. For now, that's irrelevant.
The real comparison is whether the Kings/Royals can do better than the Sacramento Kings, and the financial math on that one is an entirely different calculus. In this case, being the No. 3 NBA team in Southern California could very well turn out to be a more lucrative proposition than being No. 1 in Sacramento.
Furthermore, what's to stop the Royals from being No. 2 in the relatively near future? Will it really be that hard for the Royals to surpass the Los Angeles
Clippers
in terms of popularity? If there's a Southern California professional sports owner who should be speaking out against the Kings relocation plans, it should be Donald Sterling. He's got the most to lose.