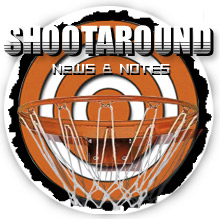 Dragic slowed up, Jordan giving out, and Brandon Jennings does Lady Gaga. For real.
Posted by Matt Moore
So Brandon Jennings lost some sort of bet, and as a result, was forced to do
a video online of him dancing to Lady Gaga
. Yes, it is as bizarre-looking as it sounds.
Goran Dragic
has been great so far in the FIBA World Championships, but
found himself in foul trouble
on Sunday in Slovenia's loss to Team USA. Twice, Dragic got caught trying to sneak up on a player's weakside off the inbounds. It's like Dragic got too comfortable playing non-NBA players and forgot just how well-trained even this inexperienced Team USA team is. And
Chauncey Billups
is anything but inexperienced.
Sam Amico of NBA.com reports
that the
Nuggets
are looking at the
Nets
, Wolves, and
Kings
as possible options for trading
Carmelo Anthony
. But this assumes the Nuggets have all the leverage,
which they don't
.
Michael Jordan and the Charlotte
Bobcats
donated a quarter of a million dollars
to middle-school athletics in Charlotte. It's another instance in a continuing theme of Jordan looking to invest in the Charlotte area. If he's planning on being the absentee owner many thought he would be, he's at least making a good show in the other direction.
FIBA play isn't necessarily the place for post play. But as NBA Playbook points out,
establishing position
is just as important there. Also, they provide a look at
Ante Tomic
, the
Jazz
draft pick who looked good for Croatia.
A resources company in Cleveland
is cashing in
on a former
LeBron James
ad campaign with a 'Witness' campaign of their own. Yet another indication that the bridges he burned in Cleveland won't be rebuilt in a day.
As a reminder,
Brandon Rush
got tagged with a five game suspension
for violating the NBA's drug policy. The interesting note? He's yet another Kansas or Kansas State player found in trouble with drugs. You'll remember
Mario Chalmers
' problems at the rookie transition program, along with
Michael Beasley
.
Bryan Colangelo is on the hot seat in Toronto. The question is, why isn't Jay Triano
also feeling warm
in the butt? It's been Triano's defense that has been systemically bad, despite good man-defenders in
Amir Johnson
and
Antoine Wright
. It's been Triano's team unable to close out games, despite having
Chris Bosh
. Everyone looks at Colangelo as the problem, but as
Raptors
Republic points out, Colangelo has yet to to hand pick a coach in Toronto.
Wanna know just how far back your team's good (or bad) decisions go?
Take a look at these flowcharts
. The
Knicks
one is especially hilarious/tragic.
Rich Cho
says there's no way to know
how
Greg Oden
's knee will respond until it's "under stress." Pretty much, Greg Oden's not going to be considered healthy until he's considered healthy. It's a binary question.