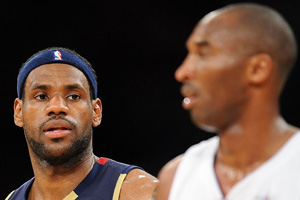 Posted by Matt Moore
As part of our continuing coverage of "the NBA can't keep a secret in any way, shape, or form..."
The NBA likes to save its most hyped games for Christmas. It's the first real holiday that it lays claims to each year. The last few years it has been
Lakers
-Celtics in the yuletide rumble. This year, the hype created by the
LeBron James
-Chris Bosh-Dwyane Wade trifecta has created a new mega-match. The defending champion Los Angeles Lakers will host the
Heat
on December 25th, according to
Ira Winderman of the Miami Sun-Sentinel
.
There's no "proving it" to NBA television marketing executives like there is among other players in the league. Those people know that people want to see the Heat, even with as sick of the Heat's PR trainwreck as they are. One mistake though is that Winderman's article mentions that the Heat won't play on MLK day.
The league has been pushing MLK day as an NBA holiday the last few years, and it's one of the few times when they have a number of people off work with no competing sports or family interests. The work they've done in highlighting that day with sextuple headers has worked well for showcasing the league. Omitting the Heat that day seems to take the holiday down a notch. But maybe that will give them the rare opportunity to show off the smaller markets that are likely to be even more overlooked than usual this year with all the superteams forming.
But for Christmas, you can expect a healthy feast of hype when Kobe-Pau-Odom-Artest-Bynum meets Bosh-Wade-James
-Chalmers
. And really, what says Christmas like hype?