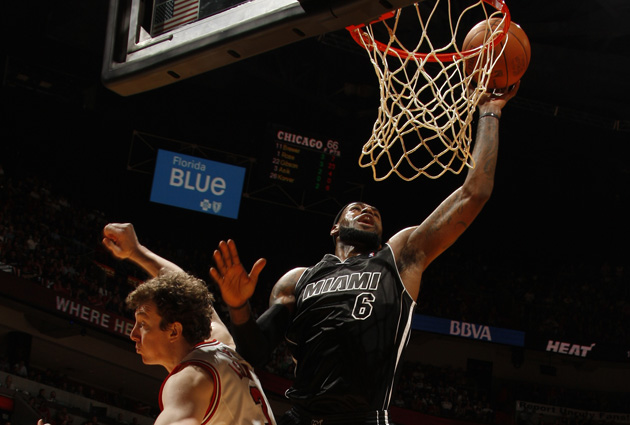 Lebron James is very good at basketball, it turns out.
(Getty Images)

By Matt Moore
The Baseline Awards hand out congratulations and criticism for performances in the last week and provide standings for the major awards. This week the
Heat
are flying again, Rubio's dishing,
Kyrie Irving
is ridiculous, and the
Magic
are a train wreck.
Eastern Conference Player of the Week: Best Overall performance by Eastern Player
LeBron James
He jumped over a dude. Yes, the dude is short. No, it was not
Vince Carter
over Weiss. He still jumped over a dude on an oop. Oh, and he averaged 26.5 points (only drug down by a poor game vs. Cleveland), 6 assists, 7.5 rebounds, and one steal. So, yeah, that guy's pretty good at basketball.
Western Conference Player of the Week: Best Overall performance by Western Player
Ricky Rubio
Wins over the
Spurs
and
Mavericks
, averaging 12 points, 11 assists, 5 rebounds. The wunderkind keeps impressing everyone from coast to coast. He's getting killed by Kyrie Irving in overall production and yet I'm betting a high number of people consider Rubio and Irving neck and neck in the rookie of the year race, that's how good Rubio has been.
Down on the Upside of the Week: Player with worst performance qualified for expectations
Raymond Felton
Felton's a better player than this. He really is. Felton is struggling from the field and finding teammates. He's not settled in, and seems unsure of his role. He hasn't established a chemistry with any of the Blazers' weapons.
Andre Miller
is flourishing in Denver, which only makes this worse.
DOMINATOR AWARD: Most dominant performance
Kyrie Irving
Irving's numbers are literally unheard of for a rookie. He's in rarefied air. Now,
Tyreke Evans
pulled this same trick and regressed, but after sinking the
Celtics
Sunday, Irving has put himself on the map. The kid is doing it all in every position. There's something special happening in Cleveland.
The "Titanic In 3-D: It's a disaster inside a disaster" award
Orlando Magic
This team was talked about as a sleep title contender (not by us, but "around") last week. This week they're a flaming pile of wreckage covered in sewage. Fifty-six points versus a struggling Celtics team, then a nice, comforting win over the
Pacers
... only to blow a 27-point lead at home to the Celtics on Thursday, followed by a shellacking by the Indiana Pacers. I would say this team is trying to force
Dwight Howard
to put them out of their misery, but that would be too easy on Howard who has also disappeared at key times. The Magic are taking on water right now in a season in which they have no margin of error.
The Puzzling Enigma Award: Strangest week from player or team
Memphis
Grizzlies
Just when you think that team has it together, they get walloped by the Blazers on the third night of a back to back, and that was fine. But losing to Phoenix was an outright disaster. This team looked like it had found its footing, only to fall through the cracks. Three straight losses to end the week for the Grizzlies.
The Horde Award: Team you should fear
Milwaukee
Bucks
We don't get it either. This team should, and probably will, fall apart without
Andrew Bogut
. But they miss Bogut with an injury and
Stephen Jackson
with a suspension, and go out and drop 100 points on the
Lakers
. Milwaukee's now won four of their last six and have scored 100 or more three times. Their offensive efficiency is up. No, we do not understand it, but we're starting to be concerned about the deer again.
Cub Scout Troop Award: Team you should not fear
Charlotte
Bobcats
. We thought they might not be so bad for a while there. Turns out, no, no, no, they are bad, bad, bad.
Searching For Bobby Fischer Award for Stratagem
Gregg Popovich for benching his starters and going solely to his bench unit vs. the Mavs. The young guns wound up scoring on 8 of 9 possessions in the fourth quarter and sparked a huge run that would have won them the game had it not been for
Jason Terry
's dramatics. There are only a handful of coaches that bold in this league, and Popovich is like, three of them.
Awkward Water Cooler Conversation Award for Coaching Struggle
Stan Van Gundy
We're not partial to the ridiculous superlatives or nicknames tossed out about SVG, who is truly one of the best coaches in the league. But it has not been a good week. His team has lacked discipline, composure, and effort. Things are unraveling in Orlando due to forces far beyond his control, but he's also unable to hold the reins this week.
Blog of the Week: 48 Minutes of Hell
This Spurs blog talks in nuanced terms about the silver and black, and features a video chat after each game. Interesting design as well.
MVP Rankings:
1. LeBron James: Again, he jumped over a dude.
2.
Derrick Rose
: Injuries are slowing him down and he's still doing this.
3. Dwight Howard: He's also LVP for sabotaging his team's season.
4.
Kobe Bryant
: By hook or by crook, Mamba will score 30.
5.
Kevin Durant
: Durant's a jumpshooter and he's shooting 51 percent. Think about that.
6.
Chris Bosh
: We know. We're stunned, too. But Bosh has honestly been the most consistent Heat player.
7.
Russell Westbrook
: On most any other team we're talking about how badly he deserves help.
8. Kyrie Irving: Oh, you think this is crazy You tell us how Cleveland's in the playoff picture.
9.
Chris Paul
: You get the feeling that if Paul wasn't saving himself for the playoffs he coul be right at the top with the
Clippers
.
10.
LaMarcus Aldridge
: Aldridge does everything for the Blazers and deserves a nod here.
Honorable Mention:
Kevin Love
ROY Rankings:
1. Kyrie Irving: There
has literally never been a rookie putting up the numbers
Irving has, at least in the modern era of tracking stats. The fact that a horrid Cleveland team is competitive and Irving is taking over down the stretch should make traditional fans happy.
2. Ricky Rubio: You have never seen a player like this.
3. MarShon Brook: Brilliant scorer who scores.
4.
Iman Shumpert
: He is what he is.
5.
Jon Leuer
: Leuer has fallen off quite a bit and may not be listed next week.
6th Man of the Year Rankings:
1.
James Harden
: Just start him, Scott Brooks. You're ruining the curve.
2. Louis Williams: Louis' on fiyah.
3.
Al Harrington
: Still doing it all while Denver racks up wins, but a bad game against L.A. Sunday.
4. Jason Terry: Needs to go down as one of the best sixth men, ever.
5.
Gary Neal
: One of the most productive scorers off the bench in the league, who no one had heard of until last year.