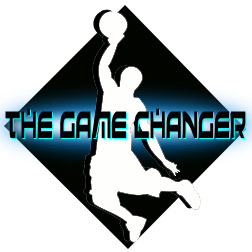 Sacramento Kings big man DeMarcus Cousins got tons of late touches, Utah Jazz big man Al Jefferson got a tip in at the buzzer, Kevin Durant stars in an amazing picture and Blake Griffin throws down a lefty finish. All that, plus plenty more. Posted by Ben Golliver.
Each game is made up of elements that help formulate the outcome. Monday through Friday, we'll bring you the elements from the previous night's games in our own specialized version of the game recaps. It's not everything that happened, but it's an insight into what led to the results you'll see in the box scores. This is
the Game Changer.
THE BIG ONE: ALL DEMARCUS, ALL THE TIME ALMOST WORKED
If you're not rooting for the Sacramento Kings on behalf of their awesome fanbase given the possibility that the team relocates to Anaheim, there's something wrong with you. But Tuesday night's 106-102 loss to the Orlando
Magic
was painful enough to keep even a bandwagon-jumping sympathetic observer up at night, befuddled at how it went down.
The Kings jumped out of the gate thanks to a double dose of
Marcus Thornton
and DeMarcus Cousins, who combined for 19 first quarter points. Playing with life and energy, the Kings held on to a slight edge throughout most of the game, looking stoic enough to hang on despite the Magic finally getting serious midway through the fourth quarter. Even as Orlando point guard
Jameer Nelson
was in the midst of scoring eight straight Magic points, the Kings had an answer, as Cousins swished a beautiful turnaround jumper to give Sacramento a 97-93 lead with 4:03 to play.
Unfortunately, That jumper might have been the worst thing that happened to the Kings. Playing without lead guard
Tyreke Evans
, the Kings simply turned over the entirety of their offense to Cousins for most of the rest of the game. Given that he finished with 29 points, seven rebounds and two assists in 36 minutes and was being guarded by
Dwight Howard
, who was playing with five fouls, it wasn't a horrible idea. But as the possessions added up, it did start to feel forced, especially as he was often isolated well outside the paint.
On the first possession following his made jumper, Cousins missed a jumper and committed a turnover and then, with one possession off in the middle for a Thornton three-pointer, Cousins missed another jumper. Unswayed, and now trailing thanks to some more Nelson heroics, the Kings went back to Cousins again. He succeeded in drawing Howard's sxith foul on a drive to the hoop. Howard argued the call, but replays showed he had a hold of Cousins' jersey and didn't do an adequate enough job of moving his feet. Cousins missed the front end of the free throws, much to his own dismay, as the familiar head shake and "negative body language" was definitely in the building. Magic forward
Hedo Turkoglu
responded by hitting a three-pointer -- which he followed up with a wave goodbye -- to make the score 105-100, and that was essentially the ball game.
The three or four minute stretch of play encapsulated Cousins' season: tantalizing yet, ultimately, frustrating. His combination of a pure shooting stroke, handle, ability to snare offensive rebounds and his uncanny ability to draw fouls around the hoop made this game must-see TV, even as the Kings were busy blowing a late lead throughout all of it.
It's no big secret that Cousins needs to mature. This was the type of night that makes it possible for diehard Kings fans, and their sympathizers, to come away thinking: "Take your time growing up, big fella. We'll be here waiting for you."
AL JEFFERSON'S GAME-WINNER:
Earlier Wednesday night, we brought you video of New York Knicks forward Carmelo Anthony's game-winning jumper against the Memphis Grizzlies. Anthony's shot wasn't the only game-winner of the evening.
Utah Jazz big man Al Jefferson had one of the most improbable game-winners you'll see, topping the Raptors in Toronto. With the game tied at 94 with less than two seconds left, Jazz point guard Devin Harris drove into the lane to throw up a flip shot. The shot missed off the backboard and caromed into a four-man scrum in the middle of the paint.
Both Sonny Weems and Reggie Evans, one of the league's best rebounders, were in between Jefferson and the basket, however Jefferson was able to extend above both of them and teammate C.J. Miles to get his right hand to the ball. He propelled the ball upwards, well above the rim level, and it looped down slowly, directly through the basket. Jefferson's bucket provided the Jazz with the winning margin as time expired, 96-94.
Here's video of the play, courtesy of
YouTube user ESPN
.
GO-GO-GADGET LINES OF THE NIGHT:
Kevin Durant: 34 points, 16 rebounds, two assists, one block on 13 of 26 shooting in 43 minutes in an Oklahoma City Thunder road win over the Philadelphia 76ers.
Tyler Hansbrough: 21 points, 10 rebounds, three steals on 6 of 12 shooting in 36 minutes in an Indiana Pacers road loss to the Minnesota Timberwolves.
Kevin Love: 16 points, 21 rebounds, one steal in 27 minutes in a Minnesota Timberwolves home win over the Indiana Pacers.
Carmelo Anthony: 31 points, five rebounds, six assists, one steal on 12 of 24 shooting in a New York Knicks road win over the Memphis Grizzlies.
DeMarcus Cousins: 29 points, seven rebounds, two assists, three steals on 8 of 16 shooting in a Sacramento Kings home loss to the Orlando Magic.
DON'T MISS:
HIGHLIGHT REEL:
This is far from Los Angeles
Clippers
forward Blake Griffin's finest work, but he threw down a nifty, lefty dunk against the Boston
Celtics
on Wednesday night. Griffin slips the pick, levitates, clutches and finishes over
Nenad Krstic
. Pretty sweet.
Video courtesy of YouTube user QuakeGriffin
.
WHIMSY:
I'm not sure if this picture of Oklahoma City Thunder forward Kevin Durant requires 3D goggles to view properly but it's pretty awesome.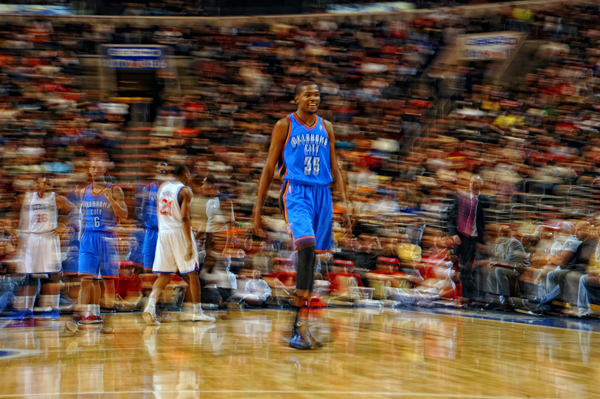 FINAL THOUGHT:

The Utah Jazz called up D-Leaguer Marcus Cousin on Tuesday and he made his NBA debut on Wednesday against the Toronto Raptors. Only one problem: The Jazz didn't have a jersey with his last name on it, just the number zero. RidiculousUpside.com comes through with the you-have-to-see-it picture and an explanation of what happened.