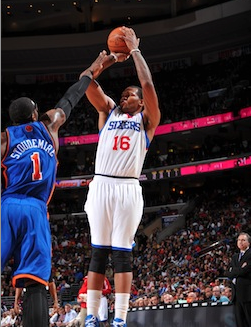 Posted by Royce Young
The
Grizzlies
front line is thin and has been even thinner with
Darrell Arthur
's season-ending injury and now
Zach Randolph
's knee turned out to be more serious than originally though (out eight weeks with an MCL tear).
Currently though, Memphis doesn't have really any depth inside.
But they're looking to beef that up.
According to ESPN.com
, the Grizzlies are in "advanced talks" to acquire
Marreese Speights
from the
76ers
in a three-team deal with the
Hornets
.
In the proposed trade, Speights would go to Memphis,
Xavier Henry
to New Orleans and the Hornets would give Philadelphia two future first round picks. Those aren't big names, but that's quietly kind of a big trade.
Speights will make a huge impact on the Grizzlies, but they'll be giving up a lottery pick from last year in Henry. Henry hasn't been able to find a spot in the Memphis rotation with
O.J. Mayo
and
Tony Allen
getting the minutes in front of him, but the Hornets, a team in search of young talent, could be a good fit for him. It comes at the cost of future first round picks, something the Hornets want to rebuild with after the
Chris Paul
deal, but Henry is a first round talent anyway.
Speights has been a terrific bench player with the 76ers in terms of per-minute production, but hasn't found many minutes this season, not having played yet instead seeing Doug Collins go with rookie
Nikola Vucevic
. But for Memphis, Speights will immediately step into the rotation and play big minutes for a contender.
Assuming it goes through, it's a quality deal for Memphis because it's something that fills a very big need. While giving up Henry is a shame, he wasn't a player seeing minutes anyway and the Grizzlies are trying to win now, not build for the future anymore.