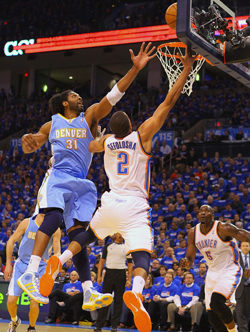 By Matt Moore
When trading a superstar, you look at two options. You can try and aim for a similar, albeit lesser star, or you can aim for financial flexibility and young players. When the Denver
Nuggets
traded Camelo Anthony last February, they received young players and financial flexibility, but they also recieved something better. Choice.
The team was not so devastated by Anthony's deparure as to be forced into a pure rebuilding episode. They had young players like
Arron Afflalo
,
Ty Lawson
, and got back more in the form of
Danilo Gallinari
and
Timofey Mozgov
. But they also had cap room to bring in someone, or, if they wanted to bring back Nene.
Ken Berger of CBSSports.com reports
that's just what they did, inking the 29-year-old to a 5-year, $67 million deal which puts him at less per year than
Marc Gasol
, and which is less than the reported four-year, $70 million offer from the
Nets
. In locking up Nene, the Nuggets are entering into exciting but dangerous territory.
The Nuggets can compete for the playoffs right now. If Lawson continues his progression and Gallinari becomes a full-fledged star and young players like
Jordan Hamilton
and
Kenneth Faried
contribute anything, along with
Rudy Fernandez
and
Corey Brewer
, who the Nuggets acquired Tuesday in a trade with Dallas, then Nene allows them to push for as high as a five-seed in the West. With the
Lakers
undergoing signs of a possible implosion and Dallas clearing space for 2012, along with San Antonio's age finally wreaking havoc on them, the
Thunder
really only stand as a major long-term challenge in the West, provided the
Clippers
don't get
Chris Paul
. A deep, talented, versatile team with depth, size, experience, youth, athleticism and range? The Nuggets have everything you'd want in an all-around collection of talent.
The Nuggets are expected to zero in on restricted free agent Arron Afflalo, according to Berger, and as a result, will have a killer lineup of Lawson-Afflalo-Gallinari with some combination of frontcourt players beside Nene filling out the roster. They'll still have long-term flexibility, with only
Al Harrington
standing as a major impediment and will still have the amnesty clause as a weapon to use to clear space. Most of that cap space will be absorbed by extensions for Lawson, Gallinari, and potentially Mozgov, but that doesn't alter the fact that they can use those contracts and players to upgrade or go in different directions.
Still, the re-signing of Nene has its drawbacks. They are a win-now team. They are not aiming for the next superstar, they're trying to grow one out of either Lawson, Gallinari, or, less likely, Nene. They're trying to catch lightning in a bottle and that's a difficult act in the NBA. It's said that the worst thing you can do is end up in NBA purgatory, a constant 5-8 seed playoff team who never winds up going anywwhere. But the Nuggets might get to have their cake and eat it, too. With the kind of young roster they have, and a viable anchor in Nene to bolster the interior, Denver can have it both ways.
Masai Ujiri caught flak from everyone for waiting on the Melo deal last fall, seemingly squandering opportunities to get better deals. Instead, not only did he take in a king's ransom for Anthony, he has converted that haul and the cap space it afforded into a team that isn't struggling to fill roster spots, one that can take risks and make savvy moves, a team on the rise that can also compete now. There's no telling where Ujiri will take the Nuggets over the next several years, but unlike so many franchises beholden to the fate of one player, the Nuggets have options, now.
Wherever they're going, it's their decision which path to take.