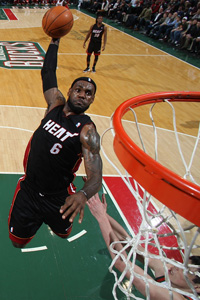 LeBron is talking dunk contest again. Don't hold your breath.
(Getty Images)
By Matt Moore
Stop us if you've heard this one. LeBron James is consdiering the dunk contest. Again.
From the Palm Beach Post
:
"I have thought about it before and a few times in the past I kind of had an ankle injury that kind of kept me out of it and a couple of times I was just like, 'You know what, I'm going to go in here and rest my legs for this weekend and then get back to the regular season," James said. "But, I mean, they say a lot of the greats have done it and I've watched it over the years."

"It's always a fence year for me. I know they're getting tired of me, though, so I'm not even going to start up nothing."
Why, LeBron? Why must you tease us, so? James committed at the 2009 dunk contest for the 2010 edition. Then he simply slid out from the obligation. It was a killer disappointment and set up one of the least impressive dunk contests in history (oh,
Gerald Wallace
, such painful memories).
James won't be joining us this year, either. He seems hellbent on getting his name in the papers, and by papers I mean internet about being in the dunk contest. But that rest is too valuable. And James honestly has very little upside to participating. He'll have massive expectations being stacked up against all those players and should he lose, it's just one more thing to add to his resume of failure. How do you exceed expectations in the dunk contest? James already had the second best dunk of the decade over
John Lucas
III Sunday. And after watching
Blake Griffin
destroyed
Kendrick Perkins
Monday, would you want to go up against the reigning champ?
The reality is that James should have done the contest in his second year, or sometime in his first five. His wear and tear, position relative to the greats in the game, oh, yeah, and massive number of parties he hosts and attends during All-Star Weekend make it way too much to invest in. But he'll continue to tease, because he knows Michael Jordan did it. But barring a miracle, it will remain a missing piece of his legacy, even it's largely a silly exhibition.
But, if he did do it...