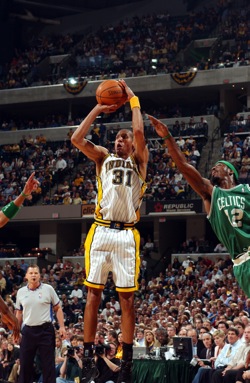 Posted by Royce Young
Nominees for the 2011 Basketball Hall of Fame were released Tuesday and while the list is strong, there's just one slam dunk. And it's a guy that didn't do much of that, but instead holds the NBA record for most 3-pointers made (2560) and attempted (6486).
Reggie Miller heads the 2011 candidates with his first appearance on the ballot. Miller spent all 18 years of his NBA career with the Indiana
Pacers
, was selected to five All-Star teams, led the league in free throw shooting five times and was a two-time gold medalist in the 1994 World Championships and 1996 Olympics.
Nobody was more deadly from outside with even a breath of space than Miller, whose eight points in nine seconds is still one of the most incredible NBA feats of all-time.
Miller is pretty much a lock for the 2011 class, but who could join him?
As Scott Howard-Cooper of NBA.com pointed out,
with the lighter class this year, some players that have been overlooked in years past might have a better shot this time around. A few of note:

Mark Jackson:
He's third on the all-time assists list and after being left off the final ballot in his first shot at it. I think Jackson will probably end up being sort of basketball's Jim Rice. A qualified candidate that deserves to eventually be in, but someone that might have to wait a while.
Chris Mullin:
Remember, the Basketball Hall of Fame isn't the NBA Hall of Fame. Not that Mullin didn't have a nice NBA career, but he's probably one of the greatest college basketball players ever. At St. John's he was a Wooden Award winner and All-American. And in the NBA, he was a five-time All-Star, was part of the 1992 Dream Team and the 1996 gold medal team, plus averaged 25 points a game for five straight years. But as mentioned by Howard-Cooper, Mullin has been a finalist the past four years and if he makes that list again this year but doesn't get in, he'll have to wait five years to be nominated again.
Don Nelson:
At some point, Don Nelson is a sure-thing Hall of Famer. He's the NBA's all-time winningest coach and wouldn't you know it, just finished up his career in basketball (for now, at least). He wasn't the most beloved coach in NBA history but you can't ignore a guy that's on top of a list. Especially a list like "Most Wins Ever." That's kind of a big deal.
Bernard King:
I'll be honest - I kind of assumed he already was a Hall of Famer. But because of injuries, King didn't finish with the type of gaudy career stats he otherwise would have. I think we should make a Sandy Koufax-ish exception here and put King in. He's one of the very best pure scorers the game has ever seen and when you're mentioned as one of the best at something, that's Hall of Fame material. And with the weak nominees, maybe this is his year.
Dennis Rodman:
If it were all about what happened on the court, Rodman is a no-brainer. Maybe the game's most pure rebounder ever (led the league for seven straight seasons), a defensive wizard that was named to eight consecutive first or second All-Defense teams and a multiple-time champion, Rodman has a Hall of Fame resume. But of course there's the issue of his personality and who is and was off the court. When you're talking about people voting you in, that's an important aspect and something Rodman may not pass. Rodman wasn't even a finalist last season though and in this class if he doesn't make it, it might not look so hot for him in the future.
Maurice Lucas:
Honestly, I'd hate for him to get in now. I just hate for great players to be inducted into the Hall of Fame after passing. It just sucks that they can't be a part of that great honor. But his family would surely treasure the honor and as a player, Lucas was as gritty and tough a guy this league's ever seen. Bill Walton called him the best player on the 1979 championship team and because of his recent passing, there might be a chance Lucas gets some sentimental votes. Not that he wouldn't deserve it otherwise though, because he really was a great player.
Other nominees include Jamaal Wilkes, Rudy Tomjanovich, Cotton Fitzsimmons, Tex Winter, Spencer Haywood, Maurice Cheeks, Ralph Sampson, Bill Fitch, referee Dick Bavetta, Rick Pitino, Joe B. Hall, Jim Valvano, George Raveling and Marty Blake, the long-time head of the NBA scouting bureau.
Chet Walker was nominated by the Veteran's committee. Arvydas Sabonis and Sarunas Marciulionis are candidates from the International committee (two very deserving nominees), while Tara VanDerveer and Teresa Edwards will be candidates from the Women's committee.
Nominees must receive approval on at least seven of nine ballots in the North American group, and five of seven in the others, to become a finalist, cuts that will be announced at All-Star weekend. Finalists will need to receive at least 18 of 24 votes from a different panel -- the names of voters are never released -- to be announced at the Final Four as an inductee.