Posted by Matt Moore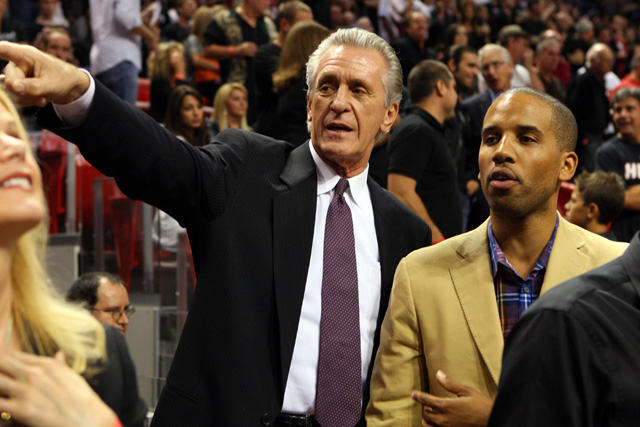 The season started a month and two days ago, but apparently it's never too soon for the new
Heat
to completely run over their head coach. Despite the fact that the Big 3 signed on to the Heat because of their trust in the organization, and that organization's trust in Spoelstra, a mutiny is afoot.
ESPN's Chris Broussard reports
that the Heat players are "frustrated" with head coach Erik Spoelstra, wondering if he's the right man for the job.
Broussard claims this isn't a "LeBron v. Spoelstra" issue
(regardless of
timeout bumps
), but one of the Heat players versus the young coach.
Ken Berger will have more on the situation in full detail this afternoon, but there's an element of this story that's worthy of discussion here.
Chris Broussard was of course the reporter to first break that
LeBron James
' "Decision" would be to head to Miami to join
Dwyane Wade
and
Chris Bosh
. So naturally his having the story of the Heat's winter of discontent is going to raise some eyebrows. Broussard's connections are most visibly through LRMR/CAA and LeBron's crew of "enablers" as they're often called. That Broussard is specifically making it clear that LeBron is not behind this public relations coup d'etat comes across as a very defensive reaction from LeBron's people.
What's more, if we look at the likely squeaky wheels, all roads lead back to James and his crew, be it CAA, Maverick Carter, William Wesley, or the whole bunch. That's partially because there aren't many other likely suspects. The role players on the Heat, like
Eddie House
, the injured
Udonis Haslem
and
Mike Miller
,
James Jones
,
Zydrunas Ilgauskas
? Those aren't strong enough voices to raise discontent. They're not going to be saying anything that the Big 3 are going to disagree with. It's just not going to happen. Their loyalty first and foremost is to the Big 3 who will protect them
if
as their performances struggle. Which means it's the Big 3.
Chris Bosh? The notoriously soft player without a loud voice in the locker room? That's the guy calling for change? It's Bosh leaking things to Broussard through his people? Or how about Dwyane Wade, who has constantly (to this very day) defended Spoelstra, backed him, up and been behind him? That's the guy who has all of a sudden turned on him? Even if Wade had issues with Spoelstra, he's not going to his agents or entourage to leak to Chris Broussard about it; he's going straight to Pat Riley, the man that won him a championship. That's been Wade's MO the entire way. Say what you want about Dwyane Wade, he's been the model of professionalism in regards to basketball matters outside of that embarrassing introductory event. He's not likely to go to the media first in this scenario.
And even if we get past both of those things, separating Chris Bosh and Dwyane Wade from LeBron James' people is kind of difficult. Why? Because they're all the same people. All three are represented by CAA, all three are close with William Wesley.
It's most likely that Broussard is reporting the truth as he knows it, that from his standpoint, LeBron wasn't the one behind this. But if that's the perception he's being given, it's because LeBron's people are purposefully orchestrating it to look that way. All the signs point to the same kind of power play LeBron has been orchestrating throughout his career with alarming frequency.
Remember that James oversaw multiple coaching changes in Cleveland. He constantly pushed for trades to improve his support while bristling at trades that would move players he was close with. (Even trading Zydrunas Ilgauskas was a difficult one for LeBron, even as it was aimed at gaining either
Amar'e Stoudemire
or the actually acquired
Antawn Jamison
.) Throughout all of it, James has and a team of people that go far beyond his agent Leon Rose pushing his agenda, running roughshod over the
Cavaliers
' organization. That tradition seems to be continuing now that the "family" has moved south. The problem here isn't that LRMR/CAA are driving a conversation in the media. The problem is that they're the ones driving the conversation, period.
As
Andrew Sharp elucidates this morning
, Spoelstra may have to go simply because he isn't capable of containing the beast that's been created. Even if he isn't the problem, he isn't able to help. This team does need a swift kick in the backside and Spoelstra's simply not going to be able to provide that. The question is whether Riley can wrangle the stars from the front office or if he'll be forced to either find a replacement for Spoelstra... or do it himself.
At the core of all this, that's what this situation is about. The Heat need someone to control the Big 3,to get their eyes off parties and enjoying themselves and into committing to the hard work and humility necessary to be truly great. Spoelstra may not be the guy to do that. The 2008
Celtics
' Big 3 had more of a solidified voice than Doc Rivers (Rivers was on the hot seat before the Big 3 was assembled; the arrival of the Big 3 allowed the Celtics to mask his biggest problem: managing rotations). The difference is that the Big 3 knew desperation; they were at the end of their careers (comparatively) and knew they'd have to play with outright intensity every night. The Heat lack that and instead are led by two players who lack that passion and intensity, and their third leader (Wade) is trying to make it work with the other two weapons after a career of having to do everything.
This situation is being dictated by LeBron, just as this summer was. While Dwyane Wade is accepting responsibility and saying he has to improve, James continues to deflect. Someone, at some point, is going to have to take responsibility for the Heat. They're going to run out of people to fire, eventually.
In the meantime, we'll keep watching what's being said, and where it's coming from, as the fall of the King continues.