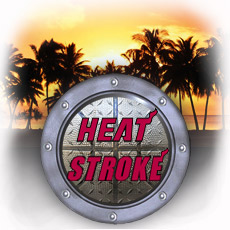 Posted by Matt Moore

The Heat are the NBA's biggest story. And in case you weren't aware of that, there are four thousand daily reminders of it. So while we're simultaneously participating in the completely ridiculous over-coverage of the Miami Heat, we'll strive to bring you examples of that coverage itself. This is your Daily Heatstroke.
The Heat held Media Day today in Miami before shipping off to Hurlbert Field in the panhandle for camp. The whole cast of characters was on stage, and the presser actually featured the Big 3 together on one stage. On the one hand, it meant that reporters could ask questions to all three of them at a time. On the other, it meant that the Triad didn't have to answer questions for too long. Which was a good thing, since the three seemed to be feeling affects of all the negative attention they've recieved. Their answers were about what you'd expect.
ESPN kicked off their coverage which promises to be as over the top as possible this season by breaking to the presser live. After coming on nearly thirty minutes late, the Big 3 commented very little on the season, but the tone was clear.
They are not happy with how they've been criticized, and have every intention of taking it out on the rest of the league. The South Florida Sun-Sentinel has a full rundown of the presser , courtesy of Ira Winderman:
James on the criticism he's received from NBA greats like Charles Barkley, Magic Johnson, and Michael Jordan: "I make my own decisions. I still respect Mike, I still respect Magic, Charles."
James on the hype around the Triad: "We understand this is an ultimate team sport. I know that by example."
More from James on the criticism he received: "I've moved forward. I don't want to dwell on the past. There's a lot of things said about me."
(James also told ESPN's Rachel Nichols that he has made a written list of all the people who criticized him this summer.)
Chris Bosh on expectations: "You play 82 games; you're not going to have 82 good games. We're going to have fun, make sure we have fun."
ESPN will have coverage, every single day, of every single practice, during Heat training camp. Hope you guys aren't burned out yet. Get it? Burned out? On the Heat? Get it? Because they're the Heat? ...I'll be quiet now.