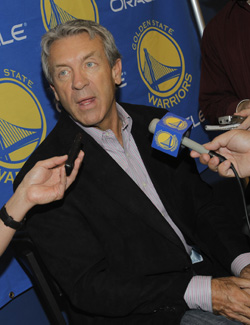 Warriors short list includes several former head coaches, but seeks to give them "minimal input" over personnel decisions. Huh?
Posted by Matt Moore
With Keith Smart ousted in Golden State, the search naturally begins for his replacement. The next coach will be inheriting a roster built for speed, with defensive liabilities at multiple positions and a lot of guys that like to shoot... well, a lot. So who's on the early short list? From the Contra-Costa Times' Marcus Thompson.
Riley said the Warriors havent contacted anyone yet and dont have a timetable for hiring a new coach, though he said it wouldnt hurt to have one by the NBA draft, which is June 23.

He declined to reveal whom the Warriors have on their shortlist, but multiple sources -- from the team and in NBA circles -- said they believe former Cleveland coach Mike Brown and assistant coaches Dwane Casey of Dallas, Mike Budenholzer of San Antonio and Lawrence Frank of Boston are on that list. Casey and Frank are also former NBA head coaches.

One team source said the Warriors have an eye on former Utah coach Jerry Sloan. But thats considered a long shot, as the legendary coach isnt expected to come out of retirement for a rebuilding franchise.
via
Head coach Keith Smart is one and done with Golden State Warriors - ContraCostaTimes.com
.
Those are all pretty standard choices, and the move towards a more grounded, defensive-centric coach is evident. Frank was brought in to replace Tom Thibodeau in Boston, Brown is known most notably for his defensive work. Perhaps most interesting, though, is this snippet from Kawakami later:
Riley suggested that a new coach will have only minimal input over player personnel. He will be expected to significantly improve the defense and get into the 2012 playoffs.
Riley has been the one splitting responsibilities with Don Nelson, and handed a new contract to
David Lee
. So for this to be a move towards more autonomy in decision making smells like a power grab in a vaccuum. Furthermore, how does that mesh with the pursuit of veteran coaches, most of whom are going to want significant influence over personnel? You can't hire a defensive coach, give him a bunch of defensive-liability offense-centric players and say "Go get 'em!" There's got to be some level of balance going forward.