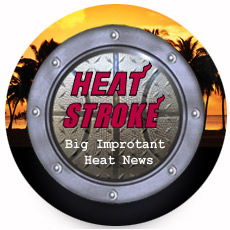 ESPN plans to broadcast Heat game on ESPN 3D, take overhyped team into overhyped technology scope.
Posted by Matt Moore
Just in case you haven't had enough of the Miami Heat in two dimensions, you'll be able to get them in the third for the first time. The
New York Times
reports that
ESPN will broadcast the first 3D NBA game on December 17th
, between the New York
Knicks
and the Miami Heat. The network will air the game on their newest venture, ESPN 3D, not to be confused with ESPN 3, their online component, or
ESPN 8: The Ocho
. From the
Times
:
Steve Hellmuth, the N.B.A.'s executive vice president for operations and technology, acknowledged that these experiments produced mixed results. He said producers were still determining how best to shoot games in a way that maximized the advantages of the medium. For basketball, Hellmuth said, this would probably mean fewer of the high, wide shots common in standard broadcasts, and more shots from the "low-slash position," captured from a camera at the corner of the baseline
Oh, so the game will actually have its own look and feel. Neat. We're pretty excited about this. In fact, we've already put together a list of things we're excited to see in 3D for the first time in this game:
Carlos Arroyo's strange, carney hands. We think they'll look like tentacles, only not quite Rondo-esque.
Dwyane Wade's various sleeves, braces, and wraps. It'll feel like we're so close we can actually smell the hospital.
Amar'e Stoudemire's dunks, which we're pretty sure in 3D could actually give viewers PTSD.
Mike Miller's hands. After all, maybe in 3D we'll see what's wrong with them that he keeps passing instead of shooting.
Mike D'Antoni's mustache. It'll get us ready to eventually see it in the fourth dimension where it belongs, amid the cosmos.
Chris Bosh's defense. Maybe it'll seem more real that way.
LeBron James' ego. We're hoping the third dimension actually brings it into the physical dimension and it looks like a shadow player playing behind him.
Gallinari, because really, what's better than a 3D rooster?