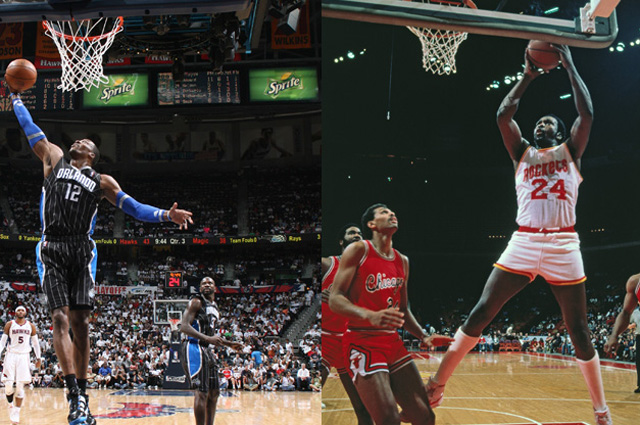 By Matt Moore


We live in an immediate society. The internet, social media, the ever-accelerating news cycle, everything means that the next 30 seconds is 10 times more important than the last 30 seconds regardless of what actually happened in the past 30 seconds. As a result, we lose perspective on what stands truly relevant from the past. The NBA is no exception. So in an attempt to merge the two worlds (since, as a blog, we love/hate/want to be BFFs within the next 30 seconds), we'll be bringing you a look at players past and present, in relation to one another.
Previously:
Isiah Thomas vs.
Chris Paul
|
Larry Bird vs.
Dirk Nowitzki
|
Michael Jordan vs.
Kobe Bryant
Next up: Moses Malone vs.
Dwight Howard
****************************
In the history of MVPs in the NBA, Moses Malone gets lost most often. He entered the ABA at 19, and it took him some time to find his place after the merger. Then he detonated in his second year in Houston, and became an MVP force year in and year out. But just as he should have been really making his name for himself,
Magic
and Bird emerged. So now you've got Moses, notoriously not eloquent and whose game was neither pretty nor flashy, trying to compete with two of the greatest college players of all time, entering the league. The result? The 80s are defined by Bird, Magic, and their rivalry, and Moses is overlooked. This despite Moses being a three-time MVP. Three times, the man won the MVP and there were a few more seasons when he would have been the appropriate choice.
Numbers don't tell the whole story, but in Moses' case, they're worth talking about. How about his first MVP season, 1978-1979, when he averaged 24.8 points and 17.6 rebounds in 41.3 minutes. Talk about carrying the load. Yet he only had a 23 percent usage rate that season. For comparison's sake,
Derrick Rose
had a 32.2 percent usage rate this past season. Malone shot 54 percent from the field that season (while taking only 16 shots a game) and 74 percent from the foul line. That's a crazy season. And it was only his fourth-highest scoring season. In 1981-1982, which was arguably his best statistical season, he scored 31.1 points per game, an unbelievable amount, and grabbed 14.7 boards per game, while shooting 52 percent. He made up nearly the entirety of that
Rockets
team. And yet, the lost in the first round.
But Moses is not one of the sad stories of players who were excellent then forgotten without rings. He was traded in 1982 to Philadelphia, joining Dr. J, Maurice Cheeks, and Andrew Toney in a championship run to help validate Doc's career. On a team with that much firepower, Moses averaged 24.5 points and 15.3 rebounds along with a steal and two blocks per game. In short, it was a magnificent season that netted him NBA Finals MVP honors as the Sixers swept the Los Angeles
Lakers
. Yeah, league rarely trumpets the feat in its eternal quest to promote the Lakers, but Magic and Kareem were swept in the Finals.
But those are only numbers. The truth is that Moses was lord of the blue-collar rebounding machines. Most of his work was done on the offensive glass. If Dennis Rodman is the best offensive rebounder of all time, Moses is not far behind. Of the top 10 seasons in offensive rebounding percentage, Rodman holds the first and third best, along with three of the top ten. Moses owns four. A good comparison for his work to modern day might actually be
Zach Randolph
. Moses had that same level of touch, the ability to lift the ball up through contact and ease it off the glass. The ball seemed trapped in a vortex swirling it down into the bucket when Moses layed it up. As important as Moses' size, strength, and work ethic were to his success, that level of touch that he mastered was equally important, and what sets him apart from so many big men offensively, including Dwight Howard.
That Moses
has never had a book written about him
is not unexpected, but no less a disappointment. In this age of raw big men wondering what it is people expect from them, Malone stands as the emblem everyone wants. He wasn't the tallest, or the most versatile. He simply dominated in every way imaginable and wasn't worried about his global brand, either.
And then, there's Dwight Howard.
The difference between the two can be seen in any number of ways, but maybe their approach on and off the court is the place to start. Howard is amazingly gifted public figure. He's drawn to the camera like a moth to flame. His commercial appeal is as wide as his shoulders. He takes to the media constantly to talk about what he feels are his team's strengths and weaknesses, does impressions of his coach, and is generally seen as a big kid. He's friendly, loveable, has a good clean Christian image, and mostly fun-loving. He's the anti-Moses in most ways.
And on the floor, Howard's a different beast as well. Howard is likely the better defensive player, his defensive ratings cast a glimpse at that. Furthermore, Howard's superior athleticism gave him a different impact in terms of physically dominating his opponents. And in terms of overall impact, no player in the league at this moment impacts the defensive end of the floor the way Howard does. That was his biggest stake to the MVP thise season, even if it was ultimately futile. Howard made the most impact when you factor both sides of the floor.
Howard made his first Finals when he was 24, Moses when he was 25. Howard has been a part of a contending team that hasn't been able to get over the top, just like Moses' Houston teams. We'll try and spare Magic fans from expanding on this comparison to avoid the implication that he has to move on to win a championship. Howard has been a prominent face of the league for the past three seasons. Whether that's due to his dunk contest participation, the increase of media exposure, or his superior play is hard to determine. But examining the impact both in terms of wins and statistically, it's difficult to put Howard on the same level.
This past season was Howard's best season, from most accounts. From my perspective, the only real difference in Howard's game was an increase in usage. Howard's field goal percentage actually dropped this past season, which can be a career-high in usage. But if his game had improved that much, wouldn't his field goal percentage at least have been equal to the previous year, which actually was his best season? Howard's impact at both ends of the floor was largely the same, outside of adding a mid-range jumper, which is like putting a surfer decal on a mack truck.
Howard's best season saw him put up 21.9 points and 13.5 rebounds while shooting 59 percent from the floor (better than Moses' best overall season, we should note), with 27 percent usage. The numbers don't match up well with Moses, but there's still time. The biggest difference is touch. Assuming Howard is slightly better overall defensively, there is a gaping chasm when compared Malone on offense. That touch we discussed earlier? That's the biggest missing component. Howard shot 59 percent from the field last season, and yet you're still left wondering how much higher that would be if he had the ability to lay the ball in like Malone did. Or if he had Malone's footwork. Or versatility. But perhaps those are unfair comparisons. After all, the facts are that at 25, Howard shot better than Malone from the field. And Howard and Malone both had usage rates of 27 percent at this point in their career. So if that's the case, where's the big gap between them offensively?
You know where: The stripe.
Howard is either incapable or unwilling to raise his free throw percentage to an even decent level. The result is that Howard shot 112 more free throws in his seventh season than Moses did, and made 63 fewer. It will continue to be a thorn in Howard's offensive side until he can convince opponents that fouling him is not a viable strategy. Maybe Howard is just waiting for the fans to cheer loud enough for the ball to go in. (
HT: Twitter
.)
The surprise there is that Howard was
a better rebounder at this point in his career than Moses was
. Howard collected 21.8 percent of all rebounds last season compared to Moses' 20.3. So while Moses had a higher rebounding total, the advanced stats will tell you that Howard actually collected them at a better rate.
Still, Moses is, as expected, better overall. But maybe that was because of where Moses grew to be after this point in his career Howard is at. And that has to excite Magic fans and NBA fans alike. If Howard can improve in a few areas, work on some footwork, and keep rebounding at his current pace, he's got a shot at equaling Malone statistically in a few areas. That of course will not make up for the ring, but it might help get him there. One interesting difference, while Howard was a better overall rebounder than Malone was at this point in their careers, Malone was better at offensive rebounding by a considerable margin, 16 percent offensive rebound rate for Malone vs. 12 percent for Howard. Imagine if Howard improved in two key areas, offensive rebounding, where he's already a beast, and free throw percentage?
Howard would be a tall, athletic freak able to create multiple opportunities for himself and create more points when sent to the line. That might be enough to make up the gap in offensive production, even if he never learns a great set of post moves from Olajuwon, improves his footwork, or gets a killer fadeaway. In short, there are ways Howard can surpass Malone without ever improving his touch.
The future's wide open for Dwight Howard. He's on the cusp. Whether he gets there is up to him. One thing's for sure. If he does, there will be more said about it than there was about Moses, and that's a crime.
All stats courtesy of Basketball-Reference.com.