Posted by Matt Moore
"Most Self-Actualized Player?" "Most Resiliant to Bad Coaching Player?" "Most Stat-Excessive Player?"
Any of these would be adequate awards to give
Kevin Love
. But "
Most Improved Player
?"
It just doesn't fit.
Don't get me wrong, this isn't some crank post about how Love didn't really improve, that he just chased stats on a bad, bad, bad team. There was a little bit of that last part going on, but those stats did help his team. Love
was
the Wolves a best player, and that does constitute an improvement compared to his previous season. But what's wrong here is the idea that Love somehow made a phenomenal jump in ability, skill, and performance, worthy of the MIP award. To say that is downright insulting.
To Kevin Love.
Love has been this good. He wasn't this good as a rookie, no one is. But he was this good last year. He would have put up these numbers, and had he gotten the minutes he was rewarded this season as a sophomore, the slight differential in his per-36 and advanced stats would likely have been negated. Love was ready to contribute at this level last season. He didn't. Not because of his play, or his attitude, or because he was stuck behind better players, but because Minnesota
Timberwolves
coaching and management have never really understood the enormous asset they have available at power forward in Love.
Love played 28.6 minutes per game last year, which doesn't sound like that much more than his 35.8 he played this season. But it's the inconsistency he got them which infuriated Wolves fans. Take a look at Love's 2009-2010 minutes compared to this season, and pay particular attention to the wider range of game-to-game minutes Love received last season.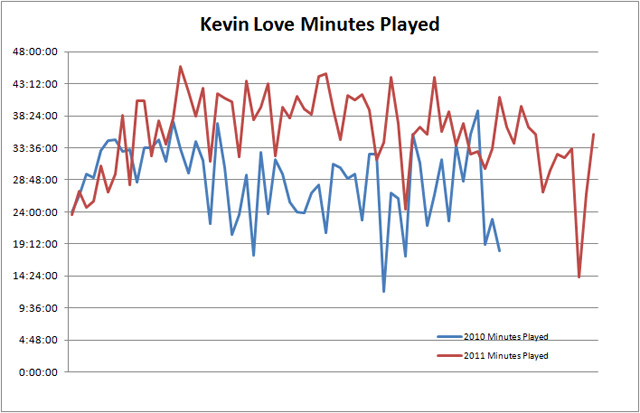 Most of Love's dips this season were due to injury. Last year, he was yanked around from game to game. Even take a look at those first couple of games. He was getting fewer minutes this season, without
Al Jefferson
, than he was last season. But from there, Love took over, had his breakout games, which forced the Minnesota coaching staff to play him and for management to back him. It hasn't exactly been a secret that GM David Kahn has never bought into Love as the star and franchise player for this team. There was a lot of talk in circles about Minnesota's management being signficantly interested in trading Love. If Love were to be swapped tomorrow, inevitably for some sort of high draft bust with upside, most people that follow the NBA wouldn't be shocked.
Kevin Love had a phenomenal season, the kind of season he should have had last year. You can argue that it's Love's improvement that earned hi more trust from the coaching staff which led to those higher minutes, but to do so would be to ignore what he was capable of last season. You can argue that Love's per-36-minute numbers and rebound percentages show enough of an improvement to warrant the award, but how much of that was simply due to opportunity and being allowed to be a focus on the floor; how much of it was the result of improved confidence?
Minnesota has a brighter future than most think. Even without
Ricky Rubio
, there's some talent on that squad, and they played with a lot of toughness for stretches in games last year. A coaching change will help, a management shift towards a more cohesive roster will benefit the team. But while Love deserves to be rewarded for his efforts, to call him most improved is to insult his intelligence in regards to what he's been capable of in this league the whole time.