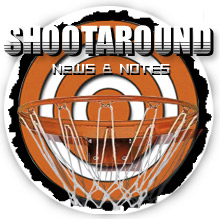 Posted by Royce Young
If you didn't watch "Jordan Rides the Bus" last night, make sure to catch one of its 500 re-runs. Absolutely terrific stuff. My favorite tweet of the night about it though came from SLAM's Russ Bengtson: "Kobe's calling the Dodgers right now."
Bobcats GM Rod Higgins says Erick Dampier might be traded rather than waived: "It's going to take a while," Higgins said. "Now that we've got another center, waiving him for the sake of waiving him doesn't make a whole lot of sense for us. We're going to continue to talk to teams to try to improve our roster."
Want to watch the best dunk-off of all time? Watch the best dunk-off of all time:
Brett Hainline of Queen City Hoops on Kwame Brown: "Kwame's signing puts the Bobcats at 4 centers on the squad - one of whom I have confidence in taking a shot that is not a dunk (take a bow, Nazr). While it was certain the Bobcats are going to waive/trade Dampier, this makes it appear unlikely that he will be re-signed following his eventual waiving, as he had previously indicated an interest in doing."
Matt Hubert of D-League Digest writing on Hornets 24/7 about Mustafa Shakur: "But the biggest takeway from this signing is the fact that the Hornets appear to be turning over a new leaf under new general manager Dell Demps, formerly of the Austin Toros. His D-League experience may prove to open new doors for an organization that previously had very little involvement with the D-League, and the signing of Shakur could be just the beginning."
John Krolik of PBT with an outstanding breakdown of LeBron James off the ball: "According to Synergy Sports, LeBron took 125 field goal attempts off of a "cut" last season, and converted 101 of those attempts. That's an 81% conversion rate. That, folks, is the definition of unstoppable, and that's how LeBron shot 65% from the field in international play. LeBron is great at scoring in isolation or pick-and-roll situations. He may be just as good at making plays for other in those situations. But he's unquestionably at his most effective when he can build up a head of steam and attack the rim against a defense that isn't waiting for him."