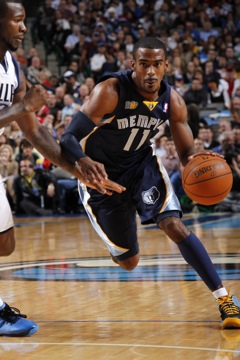 Posted by Royce Young
On the surface, it's a bad contract. And undeneath the surface, it's still a really bad contract. Maybe the worst ever.
Maybe franchise crippling.
No matter how you shake it or who you ask,
Mike Conley
's big five-year $40-something million extension just isn't smart.
But there is a little more to it than we originally thought. It's not a straight up $45 million contract. Conley's at least got to earn some of it. So that's
something.
Ronald Tillery of the Commercial-Appeal has some details:
1. The contract kicks in for the 2011-12 season, starting at roughly $6.5 million. With the maximum 10.5-percent raises allowed, the increases will look something like $7.18 (year 2), $7.9 (year 3), $8.76 (year 4) and $9.68 (year 5). There is no doubt (even with a new CBA) that Conley would have received an offer starting at least $6 million.

2. The only way Conley can exceed $40 million (i.e. the $45 million that national media was given by Conley's agent) is for him to produce what was described to me as "elite level PG statistics" AND the Griz must be winning 50-plus regular-season games AND having success in the playoffs. That means the bonus package is tied to individual and team greatness.

3. Another win/win is that there is deferred money in the deal. That'll help the Grizzlies' cash flow when their payroll is enormous. Zach Randolph came to Memphis with deferred money, which made it a little easier to absorb his contract.

Ah that Mike Heisley and his recently discovering of the fact you can put performance-based incentives in contracts. The number passed about by Conley's agent (who happens to be his father) was the full $45 million. But if Conley is going to get that, he's got to play really, really good. As in "elite level" type of play. And we all know that's not happening. So really, he's just guaranteed to get about $40 million. See, it's not so bad! Feel better now, Memphis fans?