Posted by Ben Golliver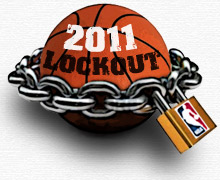 Is it starting to feel like we're entering the home stretch portion of the NBA Lockout? From here to the finish line, stick with CBSSports.com's Lockout Buzz posts to get the very latest news and rumors concerning the ongoing collective bargaining agreement negotiations. These posts will update regularly.
Thursday, 11:50 PM EST
Via Yahoo! Sports
, the last system hurdle appears to be use of exceptions for taxpayers. "Tax not issue" a source said. "Exceptions are where the fight is."
As for where the deal stands, it's "in a very good place" according to the report. "There's a strong expectation [within the negotiations] that hands will shake [Friday]," a source said.
Thursday, 10:20 PM EST
Thursday's negotiations ended after seven hours. For a wrap up,
click here
. Talks will resume Friday morning at 10:30 a.m.

Thursday, 9:00 PM EST
Where Thursday's talks stand


Talks began at 2 p.m. Eastern in New York City.
ESPN.com reports
that the two sides broke for dinner at roughly 8 p.m. and that "the next round of talks will center on BRI." BRI refers to the split of the league's revenues.
ESPN.com also reports
that the players are "currently at 52.5" for their portion of the split and that "Intel saying if -If! - they budge, it's not likely to be below 52." The owners have been pushing for a 50/50 proposal.
Yahoo reports
: "There's been significant progress on the luxury tax, but league sources say that there's still a couple of sticking points left to work out... Beyond major items - system/BRI - still level of 'B' list issues (age limit, drug testing, conduct, draft rules) that haven't been touched."
Newsday reports
that the two sides made progress on the following system issues: "length of guaranteed contracts, mid-level exception and amnesty."
ESPN.com
reports
: "Example of system issue where NBA owners/players now agree? Sign-and-trades. [They] will be allowed in new deal after fears they'd be outlawed. But one sign-and-trade wrinkle sides still negotiating is whether teams over luxury tax will be allowed to partake in sign-and-trade deals."
Optimism in the air
Yahoo reports
that NBA teams are making preparations that might be a signal that an agreement will be reached in the short term. "Team executives are cancelling scouting trips, preparing for free agency."
Miami
Heat
forward
Chris Bosh
says
: "Hopefully we can keep the momentum and get back to playing basketball very soon. I am and always have been optimistic."
Phoenix
Suns
forward
Jared Dudley
says
: "Really [encouraged] about hearing whispers about a deal being close. Hope both sides can get it done and feel good about it. I have faith."
Cleveland
Cavaliers
forward Omri Cassp
asks
: "Who thinks the lockout will be over by this weekend?????"
Could something go wrong?
Ken Berger of CBSSports.com
reports
: "Team executives I've spoken with optimistic for deal by Monday, but cautious. One says gut tells him 'this will blow up one more time.'"
SI.com says
watch out for the hard-liners on both sides: "What happens when hard-line owners like Cleveland's Dan Gilbert and Portland's Paul Allen re-enter the conversation Thursday afternoon? Or when the stars such as Boston's
Kevin Garnett
or the
Lakers
'
Kobe Bryant
weigh in on the fact that the 53-percent-BRI-line-in-the-sand has long since been crossed by the union?"