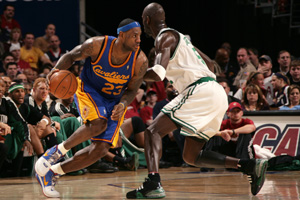 Posted by Matt Moore
The new NBA superpower in Miami will definitely have its hands full to start the season as the New Big 3 takes on the Old Big 3. Welcome to being the hunted, ring or no ring.
The Boston Globe reports
that the NBA season will kick off October 26th with the defending Eastern Conference champion Boston
Celtics
hosting the Miami
Heat
. If this report and the
Orlando Sentinel
report regarding the game against Orlando on the 28th are correct, it means two things.
One, Miami will immediately be under fire to produce wins. Starting the season off 0-2 would mean almost nothing in terms of their capacity as a team, but would result in a cataclysmic fire of negative press that would follow them until the notched several significant wins. Knocking off the
Pacers
on a Tuesday will not help things if they start off winless against the two best teams in the East outside of Miami, both of which have been to the Finals the past two seasons.
Two, the Heat will not open their own arena until at least Friday or Saturday, meaning it doesn't look like the NBA trusts the Miami market to create a particularly rowdy atmosphere, compared to what greets the Big 3 on opening night. Two road games against the two other top East teams? Baptism by fire, super-friends. Baptism by fire.
Meanwhile, the revelation that the season kicks off with Miami and Boston leads us to wonder what team the defending champion
Lakers
will face. Rampant speculation has suggested Oklahoma City, which would certainly bring the most high profile game for the Western second game of the expected doubleheader. Other possible options include the
Suns
,
Nuggets
,
Spurs
, and
Mavericks
.
We'll have more on the opening night matchups when the NBA officially releases its opening night, Christmas Day, and MLK day schedule tonight on NBATV.