Posted by
Royce Young
and
Ben Golliver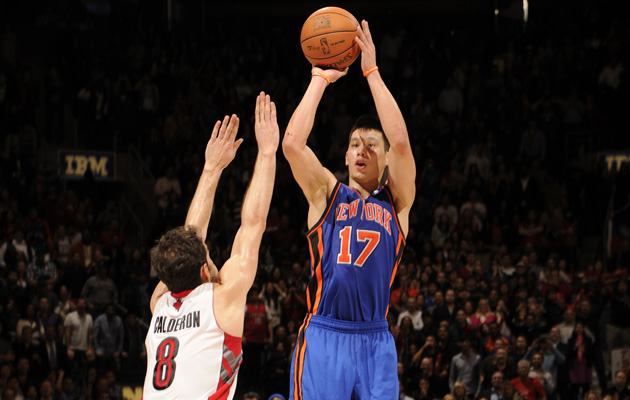 Even with all the hype, Jeremy Lin and the Knicks aren't getting their due.
(Getty Images)
The 2011-2012 NBA season continues. Here's the tenth weekly installment of CBSSports.com's NBA Power Rankings by Eye On Basketball's Matt Moore.
What did he get right? What did he get wrong? We're here to break it down and take it down.
1. Too High: Houston Rockets at No. 9
. I want to get excited about the Rockets too. They're an intriguing bunch of over-achievers with almost-stars in
Kevin Martin
and
Luis Scola
. But no way are they top 10 material quite yet. They are good at home but haven't been able to prove themselves much on the road. A 6-10 mark away from the Toyota Center has to improve if this group is to make a good case to be mentioned among the Western elite. -- RY
2. Too Low: New York Knicks at No. 15.
Gauging the Knicks is all about how you want to look at the sample. They're 1-2 in their last three and they're 16-17 on the season, but they're also 9-4 in their last thirteen. All indications are that this is an above-average team that's put its early-season woes behind it. Working
Carmelo Anthony
back in after injury and adding
J.R. Smith
to the formula won't be a completely straightforward process, but this is a team that should be at least two spots higher. -- BG
3. Most Overrated: Minnesota Timberwolves at No. 14.
We seem to go through this every week, but there's no chance that Minnesota should be this high, given that they're below .500, ranked above the Portland
Trail Blazers
, currently a game up on them, and still reside in last place of the Northwest Division. This week, they're not all that drastically overrated but placing them above New York, Portland, Memphis and Boston was a big with the heart, not the mind. Or maybe a pick made with googley eyes at
Ricky Rubio
. Whatever the reason, overrated. -- BG
4. Most Overlooked: Golden State Warriors at No. 23.
Among the bottom ten teams in the league, Golden State seems the least awful. They're 5-5 in February, which counts as positive momentum after a slow start. Written off by many as early as mid-January, the Warriors are just four games out of the No. 8 playoff seed in the ultra-packed Western Conference, and even though they're 12th in the West, their No. 7 ranked offense provides enough reason to believe that they will land closer to the playoff fringes than the basement. -- BG
5. Sure Thing: San Antonio at No. 4.
After back-to-back weeks of having the
Spurs
too low, it looks like they're finally in the right spot. Not quite as good as the
Thunder
, who own the West currently and certainly not among the
Heat
and
Bulls
. But absolutely a top five team with a look in them to make a strong push for the West's top spot before it's all said and done. They briefly got back
Manu Ginobili
, only to lose him again for a few weeks. No bother. The Spurs will just keep on. -- RY
6. Wild Card: Denver Nuggets at No. 11.
At one point, it was nearly universally agreed upon that this team was legit contender material and a threat to the Thunder in the West. Then everyone started getting hurt and they started losing games by the bunches. What would've been a defining win against OKC Sunday was snuffed out by
Kevin Durant
. The Nuggets have shown they're almost good enough, but not quite there. If
Danilo Gallinari
can lift his game to another level when he returns, this could be a group to make a big Western push. -- RY