Posted by Royce Young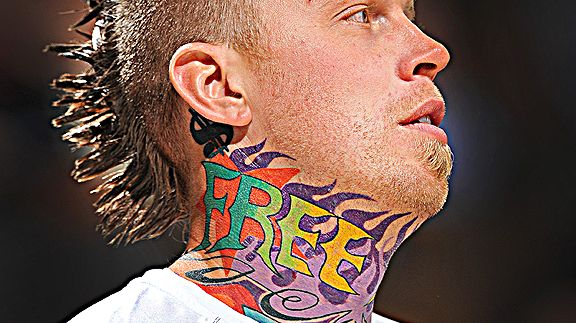 How would one go about describing
that?
The Birdman finally got his "Free Bird" tattoo colored in and as
pointed out on TrueHoop,
a commenter on
The Basketball Jones probably put it best:
"It looks like he's being choked to death by a psychedelic painting." Indeed.
With the addition of the filled in tattoo scarf, I'd say based on my calculations, Andersen has about 10 square inches of real estate left to cover (that we know of). Honestly,
if you look back to even 2009,
it's crazy to see how much The Birdman has added. I thought he had a lot of tattoos back then. But compared to now? He was just getting started.
I guess the final frontier for Andersen is his face, but he wouldn't be the first NBA player to go that direction.
DeShawn Stevenson
already
put a backwards "P" and a crack on his last season.
Plus, his mock tattooneck is nearly as extreme with a rendering of Abe Lincoln on his throat.
When I was in high school, I kind of wanted a tattoo. My mom would always say, "Yeah but think about when you're 60. Are you really going to want that still?" That sort of talked me out of it. I guess The Birdman's mom never said that to him.