Posted by Royce Young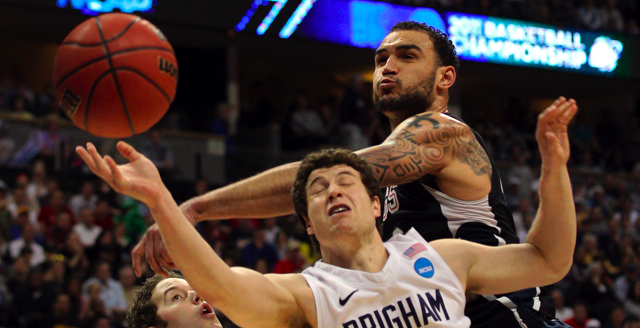 Jimmer Fredette, BYU:
34 points, 11-23 from the floor, 7-13 from 3
As mentioned after Fredette and BYU's opening win Thursday, he's got a long way to go defensively to put NBA general managers at ease in picking him. Against Gonzaga, he was entirely content letting his man go around him and never really fought hard through a screen. This may be a strategic move by BYU though to try and save Fredette's legs for offense and even to keep him out of foul trouble. I remember the Oklahoma Sooners doing something similar with
Blake Griffin
which raised concerns about his man-to-man defense abilities. And I think he turned out fine. So that's something to consider.
What was impressive about Fredette's 34 is that the Zags put a really good defender in Steven Gray on him. Gray is bigger than Fredette, long and probably more athletic. Yet Jimmer was able to get off almost any shot he wanted at any time, and even muscled his way into the paint for some points on Gray. I'm sure NBA scouts were impressed with that.
Two things about Jimmer's awesome offensive game:
1) He's going to be able to score in the NBA. I have no doubt With that crossover and that ability to drive, added to the fact he can hit from 30 feet, Fredette will be able to get shots off.
Stephen Curry
's game translated to the NBA and I don't doubt Fredette's will. People have compared him to
J.J. Redick
but I don't really see that because people didn't fear Redick's drive near as much.
2) Fredette needs to watch some tape on
Tony Parker
. One thing Jimmer won't get away with at the next level is the way he tries to lay the ball home in traffic. He prefers to scoop the ball and had his shot blocked by Gonzaga multiple times in the paint. He needs to kind of figure out that sly move Parker uses to create space with bump, then lean in as you lay it up, using your body to create space.
Brandon Knight, Kentucky:
30 points on 9-20 shooting
It was a career day for Knight who really showed off how much skill he has and why he was considered the top recruit in the country by so many. What I liked about his game Saturday was how in rhythm he stayed throughout. He picked spots to shoot 3s, picked good times to drive and found teammates too (four assists).
Knight has a pretty complete offensive game with a solid floater, a good jumper, great quickness and range out to the 3. West Virginia had no chance to check him mainly because he was hitting from deep. Knight hasn't shot the ball that well all season, but remember, this is a young, 19-year-old kid. He has a lot of room to improve. He's already a likely lottery pick but his showcase Saturday may help him move into the top 10, and maybe top seven.