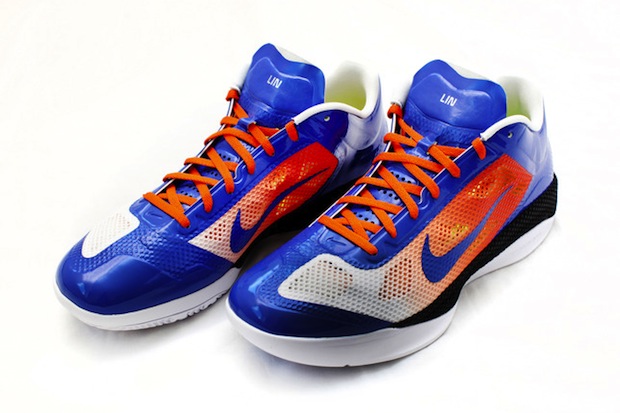 Jeremy Lin has his own Nike shoes.
(SlamXHype.com)
Posted by
Ben Golliver
It's gotta be the shoes. How else to explain the rapid rise of New York
Knicks
guard Jeremy Lin, the roster cut turned global icon?
Nike will begin capitalizing on Lin's incredible rise to fame by selling a $130 version of its Hyperfuse sneakers in New York Knicks colors,
according to Reuters
. To be clear, these aren't "Air Jeremy's" or "Air Lin" signature models, but they are the shoes worn by Lin this season.
Nike said it will launch the Nike Zoom Hyperfuse Low basketball shoes, built especially for Lin, this weekend in Orlando, Florida, where the NBA is holding its All-Star festivities.

"It's not a signature line but a version of the shoe that he's been wearing this season," the company told Reuters.
The Hyperfuse sneaker is one of the most popular models worn by NBA players. Lin's version features his last name on the tongue of each shoe.


The Oregonian provides additional details
.
The Oregon-based company sent out a notice this evening announcing the Nike Zoom Hyperfuse Low iD basketball shoe created for Lin, the New York Knicks point guard who emerged from near oblivion this weekend to fame.

The $130 shoe won't be available at off-the-shelf retail, but can be created and purchased at the NikeID.com website. Consumers can replicate the exact customization options of Lin's shoe.
Newsday reported
that a Nike spokesman issued a "no comment" when asked whether Nike has plans to produce a signature line for Lin in the future.
Sneaker companies generally reserves signature lines for established stars. All-Stars
Kobe Bryant
,
Kevin Durant
and
LeBron James
each have signature lines. All-Stars
Carmelo Anthony
,
Chris Paul
and
Dwyane Wade
have signature sneakers under the Jordan Brand umbrella.
Image via SlamXHype.com.