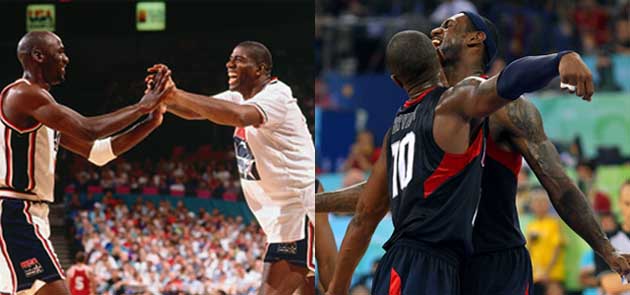 By Matt Moore
Here's a fun one. Let's take the greatest collection of NBA talent ever assembled, based on production, historical legacy, the convenient exaggeration provided by time, and "Oh My God" factor of ability and then throw them up against the 2008 version of that team, hampered by a lack of said historical perspective, the absence of the greatest player of all time, coming just months after arguably the three greatest players eligible to play for said team were eliminated in embarassing fashion. How does that work out?
In short order, the 1992 U.S. Olympic Men's Basketball Team, AKA "The Dream Team" was better than the 2008 U.S. Olympic Men's Basketball Team, AKA "The Redeem Team."
Shocking, I know.
But that's the story today, straight from the point guard's mouth, as
Magic
Johnson spoke about the team and how it compares to the most recent squad. Video courtesy of the
L.A. Times
, along with the subsequent quote from the Magic Man:
"When you think about the Olympics and the Dream Team, I have to throw it to you," Johnson said. "Kobe [Bryant] and them won by 22 points. Ehh, 22 points? We won by an average of 44 points. So when they want to step up to that, you tell them we'll be waiting on them."
via
Magic Johnson discusses Dream Team's superiority to Redeem Team - latimes.com
.
Well, then, Earvin. Way to go out on a limb.
Johnson's right, of course. But using margin of victory? That's a pretty thin construct. Jack McCallum
used a much better system
for establishing Dream Team I's dominance. There's any number of ways to prove it. But margin of victory? The international basketball community is quite a bit better now than it was back in '92 and if you want proof of that take a look at the Gasol brothers and the Finals MVP. But beyond that? The ability to run it up should never be used to determine the gap between two clubs. It's an insignificant detail and Magic, who came from an era that focused on wins and losses more than statistical production far more than the balance does now should be aware that the scoreboard doesn't always tell the story.
At the same time... come on. Jordan. Magic. Bird. And whether it's a lack of perspective due to recency, the glorified impact of legacy for those players as undisupted Hall of Famers while
Kobe Bryant
is still writing his story, let alone the younger crew on Redeem Team '08, the fact remains. Primacy. The first to come will always make the greatest impact. There will be those who will always say Russell or Wilt was better than Shaq or Hakeem (and they probably were, based on all the evidence they have) simply based on their appearance coming sooner in the collective history of the sports. And so every Dream Team will live in the first's shadow, just as every talented perimeter player will live in Jordan's.
It's a no-win proposition, but hey. It makes for a fun story to think about on a slow day.
And no matter how you feel about it, Bird checking James and vice versa sounds like a fun watch.