Milwaukee Bucks forward Chris Douglas-Roberts is not celebrating the death of Osama bin Laden. Posted by Ben Golliver.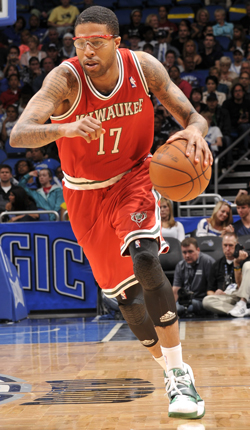 On Sunday night, history was made
when President Barack Obama announced that al Qaeda leader Osama bin Laden had been killed in Pakistan. The news, coming nearly a decade after 9/11, an attack which bin Laden masterminded, was greeted by cheering crowds in both New York City and at the White House in Washington, D.C.
Milwaukee Bucks forward Chris Douglas-Roberts, however, was not as excited.
He took to Twitter
to remind his followers about the costs of America's military efforts in the Middle East.
Is this a celebration?? Is this the beginning of a huge religious war? I hope not. (shaking my head)
It took 919,967 deaths to kill that one guy.It took 10 years & 2 Wars to kill that...guy. It cost us (USA) roughly $1,188,263,000,000 to kill that...........guy. But we #winning though. Haaaa. (Sarcasm)
Predictably, Douglas-Roberts' statements drew immediate criticism from other Twitter users. He was called "stupid", a "moron" and told to "shut your dumb [expletive] mouth" because he is "not intelligent enough to speak on the subject." Soon after, he posted a lengthy clarifying response to those critics.
What I'm sayin has nothing to do with 9/11 or that guy. I still feel bad for the 9/11 families but I feel EQUALLY bad for the war families. Whatever happened to our freedom of speech? That's the problem. We don't want to hear anything that isn't our perspective. People are telling me to get out of America now b/c I'm against MORE INNOCENT people dying everyday? B/c I'm against a 10 year WAR? Same people going nuts on me are the same people saying "bring the troops home". Right? Right?!
Reading yall's tweet AT me (pun intended) & shaking my head. This is what I get for not wanting innocent people to die daily. Shame on me. What I've learned tonight, athletes shouldn't have perspectives. But I don't care. We feel certain ways about things TOO. #FirstAmendment To everybody supporting me, I'm fine. I have very thick skin. How I feel hasn't changed the least bit.
Anyway, "God bless America"
Keeping perspective on military spending is always a good idea. Remembering all the lives lost in, and affected by, the wars is something that we should do every single day. Encouraging freedom of speech is pretty much inarguable. Douglas-Roberts' opinions here really aren't that controversial.
Except, of course, for the timing. To millions of Americans, the capture of bin Laden will stand as a historical marker, like the toppling of the Saddam Hussein statue or the fall of the Berlin Wall. There's something to be said for letting people appreciate and process that moment which, to anyone that lost a loved one in 9/11 or knows someone that has served abroad, was surely heaped in emotion.
Whether it was his intention or not, Douglas-Roberts politicized that sensitive moment. If we've learned anything in the last 15 years of American politics, that will always lead to a response, often a harsh one. Was all of the money and effort worth it to capture bin Laden? There will never be a consensus answer to that question. Like so many other political subjects, though, there is one certainty: In an instant-analysis world, where opinions and analysis arrive nearly simultaneously as world-changing news is being processed, feelings get hurt and discourse devolves quickly.
I'm not sure what exactly we learned from this back-and-forth other than the timing of a message can get in the way of its meaning.