By Matt Moore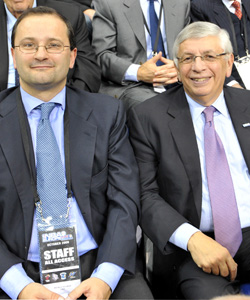 Cry havoc, and let loose the dogs of the low block. The European free agency market is officially open for business.
FIBA announed today its decision regarding clearance for NBA players locked out and their availability in international competitions, and it's good news for those wanting to play basketball overseas. From the FIBA release:
FIBA has confirmed it will approve the transfer of players under contract with the NBA deciding to play for clubs of FIBA affiliated leagues during the on-going lockout.

During a lockout NBA players who continue to be under contract with an NBA team are free to play anywhere they want, whether for their national teams and/or for club teams.

If an NBA player requests to play for a club of a FIBA affiliated league, the NBA will not object but will state that the player will have to return to his NBA team as soon as the lockout ends. Consequently, FIBA will deliver a letter of clearance subject to the receipt of a declaration signed by the player, stating that he will return to his NBA team when the lockout is over.

"As the world governing body for basketball, we strongly hope that the labour dispute will be resolved as soon as possible, and that the NBA season is able to begin as scheduled," said FIBA Secretary General and IOC member, Patrick Baumann.
via
PR N°15 - FIBA clears NBA players to play abroad during lockout | FIBA.COM
.
NBA LOCKOUT COVERAGE
NBA players headed overseas?
The ruling paves the way for what the NBPA hopes is a mass exodus of players overseas in an effort to show the NBA that its players can support themselves while the owners try and starve them out with the lockout.
Deron Williams
has already signed with Turkish team Besiktas, which also is meeting with
Kobe Bryant
on Saturday according to reports.
Whether or not players will actually pursue such opportunities is still hotly debated. Most think that players may sign, but never play abroad. Others think that the risks are too great for the players. Some think that the money makes sense, but not as much as the chance to expand their international brand, which can have far greater benefits than any salary they would pull from their team.
FIBA also stated in the release that "in spite of widespread doubts related to the lockout, National Teams competing in this summer's Olympic Qualifiers will be able to count on the participation of most of their NBA stars." That may have been part of the agreement met
when Baumann met
with David Stern last week.
Now we wait to see what the effect of this ruling will be, and if the players and European clubs take advantage of it.