Posted by
Ben Golliver
.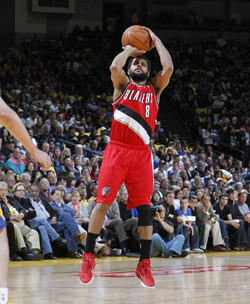 Another "NBA player goes to China" experiment is reportedly over.
Yahoo Sports reports
that free agent point guard Patty Mills has been released by the Xinjiang Flying Tigers of the Chinese Basketball Association after suffering a recent hamstring injury. Mills
said in late-December
that he expects to be sidelined "3-6 weeks";
on Wednesday, he added
that he could be back to the court as soon as this weekend.
Mills was one of a number of fringe NBA players who opted to play abroad during the NBA lockout. He first signed with the Melbourne Tigers of Australia's National Basketball League but was lured to Xinjiang with the promise of a 7-figure contract.
Mills, a 23-year-old Australian, spent his only two NBA seasons with the Portland
Trail Blazers
, posting career averages of 5.1 points and 1.5 assists in a reserve role.
A favorite of Blazers owner Paul Allen, Mills has repeatedly expressed a desire to return to the NBA and the Blazers in interviews and on his Twitter account. Portland's roster is currently full at 15 players, including point guards
Raymond Felton
,
Nolan Smith
and
Armon Johnson
. The Blazers also added combo guard and sixth man
Jamal Crawford
during the free agency period. Mills, an undersized spark plug, is known as a shooter. He struggled to find minutes in the halfcourt system used by Blazers coach Nate McMillan because of his decision-making and ability to defend his position.
Yahoo reports that Mills' ability to return to the NBA could be held up until March, when the Chinese regular season ends. A number of other NBA players -- including J.R. Smith and Kenyon Martin -- are currently stuck after signing deals there during the lockout. Martin, who also played for Xinjiang,
reached a buyout agreement
but is reportedly stuck until the Chinese season end. Smith is still playing in China.