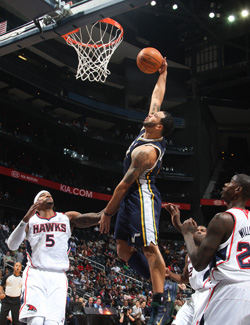 Jazz
topple Atlanta for their third road trip against Eastern powerhouse. Posted by Matt Moore
Three road games against three of the top teams in the East.
Heat
.
Magic
.
Hawks
.
Three wins for the Utah Jazz who every day look more and more like a Western Conference contender. Down multiple possessions with under four minutes to go, the Jazz did what they've done consistently this season. Keep coming, take the lead, keep the lead, get the win, this time over the Hawks 90-86 (
GameTracker
).
Deron Williams
at one point scored 11 straight points for the Jazz on his way to 24 points, 5 rebounds, and 10 assists. That's how they roll. Of particular note in the first half, Williams crossed over two Hawks, split the lane and jammed it. With time closing in the first quarter, the Hawks freaked out trying to prevent Williams from getting an assist and in doing so, left him wide open at the arc. Kaboom.
Paul Milsap only had 11 and 6, but this was an
Al Jefferson
night. Jefferson looked very much like he was starting to fit in with the team, especially with Williams on the pick and roll, on his way to 15 points, 10 rebounds, and 6 assists. His passing was superb, getting it inside to Milsap, and out for mid-range J's.
Despite all that the Hawks led for much of the second half behind an other-worldly performance from
Josh Smith
. 20 points, 13 rebounds, 2 blocks for JSmoove, and he was working it in the post and getting to the line. The Hawks shot 49% from the field and still lost. A tough loss, but that's how the Jazz operate. Silent but deadly, the Beasts of the East, in the Western Conference.
The Jazz have so much movement on their offense and while teams in the past few years may have had more perceived talent, Utah has a set of players that right now are playing tremendously well together.
Kyrylo Fesenko
had 5 assists. Because that makes sense in this world. You've got to think Jerry Sloan is an early coach of the year candidate. The Jazz finish their road trip tomorrow for their fourth game in five nights against the
Bobcats
.
Oh, and on November 24th, the Jazz travel to New Orleans. You know, if you're interested.