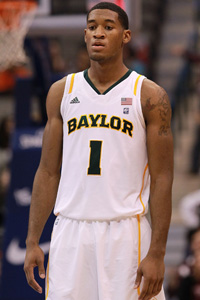 Perry Jones III has a pro skill set but questions linger about his physicality.
(Getty Images)
By Matt Moore
WACO -- There are going to be a lot of fights over Perry Jones in the next five months. And they're not going to be pretty.
In the most loaded draft class since 2003, we have a pretty good feel for where most of the top players will go and how good they will be. But no one tantalizes scouts while driving everyone else bonkers like Perry Jones III.
Jones' size and skill combination isn't just rare, it borders on special. A 6-10 forward with incredible length, Miller also possesses terrific handle for a player his size. But the same questions that plagued his freshman season have not vanished into the night, and they are perhaps the only thing keeping him from being a top-five pick.
Let's put it simply. No one knows how tough Jones is. On Saturday against an out-sized Texas team, Jones plugged in a double-double in the first-half. He showed better work in establishing position down low than he has for most of the season, while also using his superb mid-range face-up game and maneuverability in the lane to rip the Longhorn defense to shreds in the Bears'
76-71 win Saturday
.
But there were still moments when Jones showed the same problems with physicality and focus that have held him back. His touch is what sets him apart from so many combo-forward prospects, but it also means he too often drifts the ball up into block-magnet territory. He can sky for the occasional alley-oop, and off the dribble he has the ability to take his defender to the rack for a strong finish. It is not a matter of ability, of skill, of talent.
It's a matter of want-to. Jones body language on the floor has taken a beating from pro evaluators and scouts. On Saturday, you saw the best and worst of Jones. Casually jogging up the floor during live play... then detonating towards the rim. His attitude and approach is contrasted by the other lottery pick on the Bears, Quincy Miller, who plays with an aggression and determination that you can't help but wish Jones had. With the score tied with 7:51 to go against Texas, Miller nabbed an offensive rebound in between two defenders, went up and drew the foul. It re-energized a Baylor team that had fallen into listlessness again.
"We've got to work on our aggressiveness," Jones told reporters after the win.
Two weeks ago in Lawrence, Jones was muscled out completely by Thomas Robinson. While Robinson's been destroying everyone this season as he shoots up the draft board in his own right, it was a challenge to Jones. He showed the same things he can show, the mid-range game, the perimeter shot-making, a nasty pump-fake-and-go dunk. But it's the infrequency of his attempts at those plays that bring questions as to whether he's mentally "there" enough to hinge a franchise on.
In Baylor's two losses, he snagged just nine rebounds total, a number he eclipsed in the first-half against Texas. He finished with 22 points on 10 shots and 14 rebounds. It wasn't a dominant performance, but it was more than good enough to put his team in position to win. His rebounding was very strong, even considering the lack of size he faced against Texas. If it's effort scouts were looking for with Jones, Saturday was an example of what happens when he brings it. And that's the other part of the "Good PJ3 vs. Bad PJ3" debate. Just when you think Jones simply doesn't have the ability to make tough plays, he makes one.
"I gotta have a double double to help my team win," Jones said after the game in response to why he's focused on his double-double streak.
"Perry's a lot more aggressive, being healthy," Baylor head coach Scott Drew said. An ankle injury had limited Jones early in the season and his rebound totals continue to improve as he gets healthier, despite the dip during the brief losing streak.
Jones has the remainder of the season to try and put these fears to rest and show he's developed those skills. Even if he doesn't, he'll be a top-ten pick and be in strong consideration for a top-five selection. His game would translate well as a small-forward, but lateral quickness matters at that position in the NBA these days.
So the debate will continue. Skilled all-around weapon or tweener lacking muscle? Small forward or power forward? A mini-LaMarcus-Aldridge, a second-coming of
Lamar Odom
, or another big who doesn't play big? We know Jones can play at the NBA level. But the issue of how he will play at the NBA level continues to be a complicated one up for debate.
Other notes from Baylor's
76-71 win
over Texas:
- Apparently sending mixed messages was a theme for Saturday. Texas guard Myck Kabongo showed the recklessness and sloppy play that has seen his stock drop since the start of the season... and the kind of perimeter range and blinding speed that put him there in the first place. Twice, Kabongo nailed a a three and drew contact for the four-point play. On one of them he was even touched! In reality, it was a crafty move that helped put the Longhorns in position to tie the game late.
- Miller's role in the NBA is still impossible to figure out, but his playmaking is easy to see in translation. He's aggressive on the glass and has that freakish length you love to see in a small forward. He's not "scratch his knee standing up" like
Bismack Biyombo
, but he's within range. He's looking like a steal between 7 and 14.
- That same handle that Jones is so strong with also gets him into trouble. He's got a habit of wanting to run the floor, particularly coast to coast. That creates problems when there are, say, three defenders closing to attack his dribble.
- J'Covan Brown doesn't have the body to consistently play at the next level, but he certainly has the skills and moxie. Brown was a motor for the Longhorns and a huge part of what brought them back from a sizeable deficit.