Posted by Ben Golliver.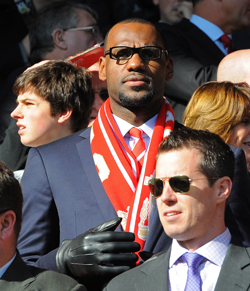 One thing we know about 330-pound defensive linemen: they love piling on.
MySanAntonio.com reports
that Warren Sapp -- a monstrous former All-Pro defensive tackle and current television analyst -- decided to jump on top of the massive pile of NFL players who have questioned whether Miami
Heat
All-Star forward
LeBron James
is tough enough to play professionall football.
"How about LeBron do one-sixth of what Jordan did, let's see him go win a championship," Sapp said.

"Go do that. Go see if you can conquer your sport before you come over here because them boys on defense, we like pretty boys like that. We want to split them."
Sapp made the comments on an NFL Network broadcast.
The idea that James, who was a high school football stand-out, might be interested in the NFL arose
back in October
, when Seattle Seahawks coach Pete Carroll
started recruiting him
on Twitter.
The backlash from football circles
at the time was swift and furious.
Cincinnati Bengals corner Leon Hall said: "It wouldn't be easy. I recommend he keep his NBA contract and just play the Madden video games if he misses football."
"He's the mentally weakest person I've ever seen," added former All-Pro linebacker Chris Spielman.
Sapp's comments are another indication that James is respected as an athlete but not feared. While he plays hard, James lacks a certain ferocity, not to mention a championship, that would serve to insulate him from this type of macho criticism. Sapp's analysis boils down to one part football provincialism and one part psychological challenge.
Sapp knows as well as anyone that his critique will be rendered moot if and when James wins a title. He's just getting in his shots while he can.