Posted by Ben Golliver.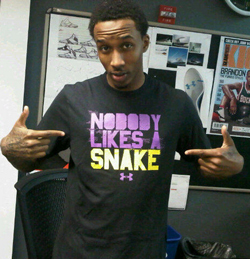 Under Armour is a well-established player in some segments of the apparal market and they've been aggressively looking to expand their reach when it comes to basketball.
Their first power play was to corner the market on young, undersized, shoot-first point guards with street cred by signing
Brandon Jennings
of the Milwaukee
Bucks
and
Kemba Walker
of the Charlotte
Bobcats
. When that failed to achieve world domination, the company opted for Plan B, which apparently is to volley shots at their rivals in hopes of getting their brand name out there in any way possible.
Their vehicle for achieving brand recognition is this
understated spoken word rhyme/rap poetry
video advertisement that takes subliminal jabs at Miami
Heat
forward
LeBron James
, Los Angeles
Lakers
guard
Kobe Bryant
, Orlando
Magic
center
Dwight Howard
and former Philadelphia
76ers
guard
Allen Iverson
. James and Bryant are Nike athletes; Howard is with adidas; Iverson was the face of Reebok for the better part of a decade.
"We are not royalty," the ad begins. "We don't claim crown to a kingdom we haven't earned yet."
This line, of course, is a jab at James, whose nickname is "King" and who has yet to win an NBA title.
"We don't represent the followers," the ad continues. "The ones who get bought, the
Kings
, the superheroes, or the snakes that get caught and wrought in something so fictional that athletes turn into actors, legacy reduced to a press conference concerning practice."
"Kings" references James again. "Superheroes" is a reference to Howard, whose nickname is "Superman" and who wore a cape while winning a Slam Dunk contest. "The snakes" is a reference to Bryant's nickname, the "Black Mamba". The press conference line, of course, recalls Iverson's
infamous rant
.
In case you had any doubt about the intended targets or meaning of the words, Jennings
uploaded a photo of himself to Twitter
wearing an Under Armour t-shirt that reads, "Nobody likes a snake." The words appear in Lakers colors: purple and gold.
This whole campaign has an obvious rap battle subtext feel. It's a David vs. Goliath tiff, as Jennings has essentially played one meaningful and memorable game in his NBA career -- the night he exploded for 55 points -- while his targets are all perennial All-Stars.
Really, this advertisement raises all the wrong questions. Which company is this for again? What's so bad about actually being an accomplished basketball player? Exactly how does a multi-channel marketing campaign entitled "Change Agents" represent a more authentic existence than the world inhabited by the game's brightest stars? Would the stars even care if Jennings is trying to make a buck off of them?
When the video fades to black, you're left picturing James, Bryant and Howard counting large piles of money, stopping briefly to dust each other's shoulders off. Oh well, I guess. At least we're talking about Under Armour for once.
A word of unsolicited advice: stunts don't sell sneakers for long.
Here's the Under Armour advertisement courtesy of
YouTube user UAChangeAgents
.
Top image via Brandon Jennings on Twitter.

Hat tip: IAmAGM.com and The Basketball Jones.