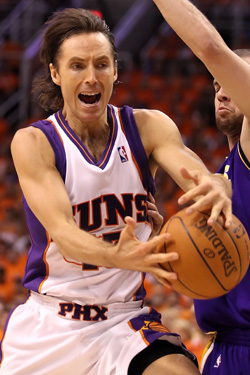 Posted by Matt Moore

It's a season of change, and the Suns are dealing with some pretty big ones. They lost a huge part of their bench mob in Louis Amundson. They lost a pivotal speed player who's been there for years in Leandro Barbosa. And oh, yeah, they lost some Amar'e guy. So there's a lot for them to process as camp starts with new additions. Here's what's going on as the Suns try and adjust to Year 1, Post-STAT.


Training camp site: San Diego, CA

Training camp starts:

Sept. 28



Key additions: Josh Childress (free agency), Hedo Turkoglu (trade), Hakim Warrick (free agency), Gani Lawal (draft)

Key subtractions: Leandro Barbosa (trade), Amar'e Stoudemire (free agency)

Likely starting lineup:

Steve Nash (PG), Jason Richardson (SG), Hedo Turkoglu (SF), Hakim Warrick (PF), Robin Lopez

Player to watch:

Hakim Warrick. Warrick has never really impressed anyone with his play. He's been good, he can dunk, but he's never blown anyone away. He's also never had Steve Nash working with him in the pick and roll. That's a huge step. He needs to work on his defense and finishing like Amar'e did with his athleticism if he wants to get a starting spot, because Turkoglu will likely get a lot of time there, as weird as that is. Warrick also needs to work on his mid-range game to be more of a threat all over the floor.

Chemistry check:

This team likes one another, but there are a lot of new faces in the locker room, and some come with egos. With the loss of Louis Amundson and several players looking for extensions, you have to wonder if distractions will be a problem from the get-go.

Camp battles:

The entire frontcourt. Robin Lopez probably has the biggest lock on the starting gig at center, but Channing Frye may push him as he did last year. Josh Childress, Grant Hill, Hedo Turkoglu, Hakim Warrick, Jared Dudley, and Earl Clark will battle it out for the 3 and 4 slots (with Childress likely to spend a lot of time at backup shooting guard). They've got a lot of weapons, a lot of versatilty, and no clear-cut leaders at those positions. Should be a fun competition.

Biggest strength:

They're still the Suns. Even with the Amar'e bullet out of the chamber, they've got athletic guys who can run, shoot, and score. They work hard and are lead by one of the best point guards in NBA history. The formula has proven to work. The pieces aren't huge downgrades outside of the loss of Stoudemire, and they're used to overcoming adversity. They'll also still be entertaining as all get-out.

Glaring weakness:

Super-punch. They lack a superstar outside of Nash. That's going to be hard to compete with in the Western Conference. Someone has to make a huge step if they want to make the playoffs again.