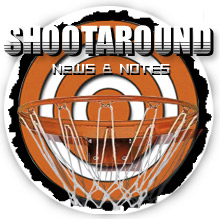 Jazz will take back Fesenko, Conley has to take charge, Dampier will take his time, and Shaq giving quotes as usual, all in today's Shootaround.
Posted by Matt Moore
It's Fesenko time! ESPN.com's
Marc Stein reported via Twitter last night
that Kyrylo Fesenko had
elected to turn down an offer
from the
Rockets
and return to the Jazz for a one-year, $1-million deal. NBA FanHouse's Sam Sam Amick
confirmed that same report
. Funny thing is, the
Salt Lake City Tribune
reports that while Fesenko's made up his mind,
discussions haven't begun
with Utah to finalize. So we're in the 90% range but not a done deal. If you're wondering why you care, take a look around the Western Conference to see how big the West is. Every center matters.
The
Commercial Appeal
's Ron Tillery
has a look at five things to watch
during
Grizzlies
training camp, and
Mike Conley
is the big one. The Grizzlies have eliminated all competition for the point guard job in an effort to give him the confidence to be the player they need him to be. Which isn't really the player he's been for the duration of his career.
Guyism
has an awesome run-down
of the
new technical foul violations
, as demonstrated by Rasheed Wallace. Here's a question: How's the league going to make up for the loss of revenue with 'Sheed retiring? That's a lot of fine money going out the door. Could it be that's the reason for the expanded tech rules? Conspiracy! (Note: Not a real conspiracy.)
Sam Amick at FanHouse has another interesting story, as he spoke with Erick Dampier and found out
Damp has expanded his list of prospective teams
, with Portland, Toronto, and Milwaukee joining the list of teams he's considering. Portland's an interesting option, considering they have
Greg Oden
,
Marcus Camby
, and
Joel Przybilla
on roster, even with the injuries to the first two. Would be quite a statement if Portland brought in Dampier.
NIUBall.com, which covers the Chinese leagues, reports via HoopChina.com that either
Von Wafer
, Rafer Alston, or
both could be headed to China
. You realize Rafer Alston was starting for a Finals team a year and a half ago? Geez, talk about a plummet.
Among the
many, many quotes that Shaq gave ESPN Boston
, he says that this is the first time in his career he doesn't have to hold anyone's hand, nor have anyone hold his. Which is kind of ridiculous considering the level to which
Dwyane Wade
shouldered the load in Miami, having already made the playoffs. And I think it's hard to argue he had to hold James' hand. And he actually damaged
Amar'e Stoudemire
's confidence to a large degree. But hey, whatever makes the big guy feel good about himself. Also, apparently Glen "Big Baby" Davis is considered a "great player" by O'Neal. ... 'Kay.
Kwame Brown
was injured in a pickup game
and will be out 4-6 weeks. The
Bobcats
are going to be insanely short on centers. Bloggers will be insanely long on jokes about this situation.
Primoz Brezec is playing in Russia this season,
according to ... himself
. Again, see shot #1 here for why that's relevant.
Don't get
Brook Lopez
started on comic books
.... you'll be there for a while.
Disney is
now sponsoring Amway Arena
, where the
Magic
now play. ESPN is owned by Disney. Maybe now you'll see Orlando getting the kind of attention respect that Boston and Cleveland have enjoyed from ESPN for... "BREAKING NEWS! The Miami
Heat
have gone to dinner together! We take you there live!"