The Charlotte Bobcats have added owner Michael Jordan's long-time friend, Charles Oakley, as an assistant coach. Posted by Ben Golliver.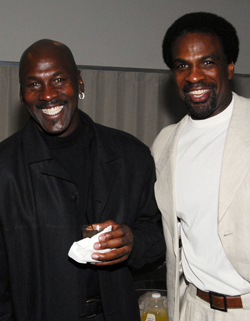 Michael Jordan and Charles Oakley go back a long time. Before getting traded to the New York
Knicks
, Oakley was famously Young Jordan's basketball bodyguard, an enforcer tasked with protecting the high-flying star from nightly drubbings. The pair teamed up briefly again during Jordan's comeback with the Washington
Wizards
, and they've long been known for their hard-partying off-court exploits. On Thursday, Yahoo! Sports
reports
that Jordan has
tabbed Oakley as one of the assistants
to join
interim head coach Paul Silas
, on a staff which will reportedly also include Stephen Silas and Ralph Lewis.
At first glance, this looks like an uber-rich friend doing a favor for his rich friend, but this might not be the worst idea in the world. With former head coach Larry Brown
departing so quickly
after making comments about problems in the locker room, it's difficult to think of a better head-cracking enforcer than Oakley. If getting young players to behave and play harder is what's needed, nobody can scare some sense into them quite like Oakley, who made his reputation as a physical rebounder on the tough-as-nails Knicks teams of the 1990s. I always thought Oakley could wind up as the single best high school security officer of all time, and that's pretty much what he'll be asked to do with the Bobcats, so this feels like a natural fit. To be honest, I'm sitting here at my desk, 3,000 miles away from Charlotte, afraid to cross the line on any more quips, lest Oakley hunt me down. If I was sitting next to him on the bench, or having him glower at me during practices, I would be giving 100 percent, no questions asked. Surely the Bobcats will fall in line. For Oakley, the position will require that he exercise a bit more prudence in his public comments. Earlier this week, in an interview with Miami radio station WQAM, for example, he referred to TNT commentator Charles Barkley as a "***hole" and cursed repeatedly, according to
a transcript posted on SportsRadioInterviews.com
. That kind of thing will get you fined right out of the league by NBA Commissioner David Stern. Charlotte isn't going anywhere anyway, so this move rates an A+ based on the potential entertainment factor alone.