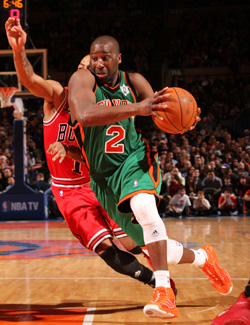 Knicks point guard comes up big to help Knicks topple Bulls on Christmas.

Posted by Matt Moore
Raymond Felton
isn't mentioned as a top point guard in the league with so many amazing players at the position. His performance on Christmas Saturday against
Derrick Rose
and the Bulls. Felton finished with 20 points on 9 of 18 shooting, 12 assists, 5 steals, and 5 turnovers to Rose's 25 points, 7 rebounds, 8 assists, 6 steals and 7 turnovers, with 12 of 28 shooting. But it was Felton's play in the fourth quarter that was essential at both ends. He managed to disrupt Rose enough and snagged two steals to help the Knicks pull away while the Bulls' offense went into the tank.
Then with the lead cut to six inside of a minute, Felton threaded a behind the back bounce pass to
Wilson Chandler
who used the space afforded to get his man in the air, then slice to the bucket for the score that iced the game. It was the kind of play he made all day, that he's made all season. Chicago elected to try the Boston approach on
Amar'e Stoudemire
and throw all their defense at him, which left space. Felton took advantage of it.
In particular, Saturday's game showed the difference in Felton under Mike D'Antoni versus Larry Brown. Under Brown, Felton would need to peel back on possessions like the fourth quarter jump ball he obtained, to set the offense. Under D'Antoni, Felton saw an opening and immediately attacked the basket.
Stoudemire gets all the marquee attention at the Garden, but Felton was the big difference for the Knicks today.
**********************************
Assorted bullet thoughts:
Chicago finished with a 94 efficiency rate, which is horrific. They scored 12 points in the 4th, and wen through an 8-minute drought in that quarter, which allowed the Knicks to pull away in a close one.
45 combined turnovers today for the two teams, who apparently had a little too much egg nog last night.
Landry Fields was simply everywhere, and is the kind of player that rarely finds himself on Mike D'Antoini's teams. A fierce rebounder who makes all the little plays, gets good steals, and will do whatever is asked. He was also very efficient with 5 of 7 shooting.
Kyle Korver is up there with Ray Allen for best "off-the-curl-screen" catch-and-shoot three-point shooter. His only playing twenty minutes has to make you scratch your head a bit.
Boozer, Rose,and Deng all played 40+ minutes Saturday, and the Bulls have a back-to-back Sunday on the road at Detroit. That should be fun.