James leads the pack of first-quarter MVP candidates
(Getty Images)
This lockout-shortened NBA season is already a quarter over for most teams, stunningly. It has been a crazy whirlwind under the compacted schedule, and we're seeing older teams like the
Mavericks
,
Lakers
, and
Celtics
struggle through it. Meanwhile, deep, younger teams like the
Nuggets
and Sixers are thriving, and yet the same powers that were expected to be at the top are, even with Miami fallen off a bit. So to get a fix on where we are this season, we thought we'd hand out some awards, roundtable-style.
1. Who's your MVP?
Royce Young:
LeBron James
. The
Heat
lost their first game without
Dwyane Wade
this weekend, but still, they're 5-1 without him and that's pretty much because LeBron is still the best player in the world.
Matt Moore:
I don't want to say LeBron James, because it seems too obvious, but I'm going to say LeBron James, because it's so obvious. No one takes over those first 46 minutes like he does, and without them, you don't get to the time where he has so many question marks.
Ben Golliver:
We've exhausted the ways to explain LeBron James' individual brilliance in recent years, but the modifications that he's made to his game – slashing his three-point attempts, improving his mid-range shot, getting to the free throw line more than he did last season – plus ridiculous numbers (29.7 points, 8.3 rebounds, 7.3 assists, 2.1 blocks, 56.4 percent shooting) make this James' best season to date. Give it to him so we don't have to listen to arguments in 5-8 years about how many times he was snubbed, like we're been hearing from droning
Kobe Bryant
fans since 2006.
2. If star power wasn't a factor, just straight out "who helps their team the most," who's your MVP?Royce Young:
Still LeBron. I think it became pretty obvious last season how valuable he is to a roster when the Cavs went from a contender to the longest losing streak in NBA history just with the subtraction of LeBron.
Matt Moore:
I think it's a tie between
Gerald Wallace
and
Andre Iguodala
. Both of those guys do such a phenomenal job in every facet of the game for their teams, and the wins and losses often correspond to how they come out. They're so active with and without the ball and make so many plays for their teams, they have a ridiculous level of impact on their teams, even if James is a superior player.
Ben Golliver:
James' PER ranking is 8 full points above the nearest competition (35 to Bryant's 27) and he's carried the Heat in Dwyane Wade's absence due to injury, so his claim to "helping his team most" to date is essentially indisputable.
3. Is ROY a two-man race already?Royce Young:
Not yet.
Ricky Rubio
is the first quarter ROY, and
Kyrie Irving
is right there with him, but don't count out
Kemba Walker
and even
Brandon Knight
, who had quietly been playing well in Detroit early on.
Matt Moore:
Rubio is drawing comments from people who say he is unlike anything they've ever seen and Irving is statistically dominant in nearly every category. If there were an award for Rookie to wind up making the most impact on wins and losses, I'd go with
Kawhi Leonard
, who will be making life very unhappy for some team in the playoffs.
Ben Golliver:
We've definitely got the Ricky Rubio vs. Kyrie Irving two-headed monster that we expected, but the twist is that both the
Timberwolves
(11th in West) and the
Cavaliers
(9th in East) are fringe-y playoff teams rather than conference basement dwellers. Team performance could easily be the deciding factor.
4. If James Harden was starting like he should, who would be your sixth man of the year?
Royce Young
: It's a close race between
Al Harrington
and
Lou Williams
. Both impact their teams greatly when they step onto the floor.
Matt Moore:
Al Harrington. Harrington's ability to score anywhere on the floor combined with his active defense make him the prime candidate and it's not close.
Ben Golliver:
Mo Williams
of the
Clippers
has dealt with some injuries but has put up 14.5 points and 3.9 assists while shooting the ball extremely well (53.8 percent from the field and 44.8 percent from deep) during the season's first month.
5. Who wins "worst coaching performance?"Royce Young:
Paul Westphal. Getting fired kind of seals your fate by default, doesn't it? But Westphal, who is a good basketball mind, just couldn't connect with his young team and lost them. That's not doing a good job.
Matt Moore:
It pains me to say this because I think he's limited by his roster and will work out in the long-run for the
Pistons
, but Lawrence Frank has disappointed. Signing veterans with limite upside and impact isn't his fault, but relying on them is. The pieces are there for the Pistons to come together, but it simply hasn't so far this year.
Ben Golliver:
I'll give it to Flip Saunders of the Washington
Wizards
, if only because he was blown off so blatantly by referee Danny Crawford
during this argument
. He should have already been fired.
6. If we were giving an award for "strategic adjustment" by a team, who wins?Royce Young:
Rick Adelman has done the best job of any coach so far this season. The Wolves are finally organized offensively and he smartly managed the Rubio starting situation. He gave him time to ease in and made the move to start him before it became a nagging issue that was a constant topic of discussion.
Matt Moore:
I'm going with Doug Collins' use of his bench. Deploying them as units and then integrating based on what's working in-game has been genius. Honorable mention to George Karl's two-point-guard lineup.
Ben Golliver:
Completely disregarding defense was getting played out, so props to Mike D'Antoni's
Knicks
for switching it up and completely disregarding offense.
7. Who has the best defense in the league, team and player?
Royce Young:
The
Bulls
have easily been the best defense. Teams are having trouble cracking 80 on them for crying out loud. At home, they've held four teams to under 70. Best player, I'm giving credit to Andre Iguodala who had been terrific defending the perimeter so far this year.
Matt Moore:
Chicago has the best team defense, but the Sixers' more basic, very stable set is a strong candidate as well. Dwight's the obvious pick, but with the
Magic
's overall defense not as hot, how about the Clippers'
DeAndre Jordan
? A block machine. He still overreaches on help at times, but overall he's been nearly dominant down low.
Ben Golliver:
I think we're at the same place we were last year: Chicago has proven itself to be the NBA's best defense while Magic center
Dwight Howard
(16.1 rebounds, 2.3 blocks per game) is in a category all his own when it comes to individual accomplishments and impact.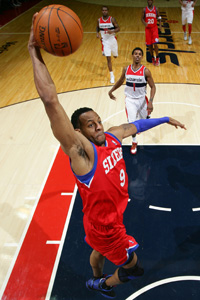 Andre Iguodala has helped the Sixers to a surprisingly strong start.
(Getty Images)
8. What wins "best storyline" for you?Royce Young:
The
76ers
and
Pacers
quiet rise to contendership. Both teams don't really have any starpower and might not be able to sustain this success through the year, but they're playing well right now and positioning for a high seed in the East.
Matt Moore:
The Knicks, Celtics, and Lakers falling apart like a flan in a cupboard. Nothing is more scinitllating that star-studded teams in big markets collapsing.
Ben Golliver:
The Denver Nuggets and the Utah
Jazz
being so much better than the New York Knicks and New Jersey
Nets
, the teams who made blockbuster moves for
Carmelo Anthony
and
Deron Williams
at least year's deadline.
9. Best free agent signing, first-quarter?Royce Young:
David West
. He's given the Pacers exactly what they needed. An extra scoring option and someone to rely upon late in games for a big basket.
Matt Moore:
Marc Gasol
. Cheap out as he was re-signed, but Gasol has been even better than last year and looks like the franchise center he's being paid to be. Memphis made out huge with that deal.
Ben Golliver:
Among the teams with the top records in the league, the Pacers adding David West – solidifying them as a likely top-4 team in the East – and the Clippers nabbing the amnestied
Chauncey Billups
– giving them a foul-drawing machine and a stand-in replacement when
Chris Paul
gets injured, both merit acknowledgement.
10. Who is the best team in the league?
Royce Young:
Chicago. The Bulls are a bit boring -- especially when
Derrick Rose
doesn't play -- but you can't ignore how they're just hammering on people right now. Scoring against Chicago is a full on chore and with
Luol Deng
playing great,
Carlos Boozer
looking better and of course having Rose ready to carry the load when needed, the Bulls appear to have the total package.
Matt Moore:
The Miami Heat. I know what the records say. I know how good Chicago and the
Thunder
have looked. But the Heat at their best are a better team than they were last year. OKC doesn't look as good, and Chicago is the same. Look me in the eye and tell me you're confident either of those teams can knock off the Heat if it's best vs. best. Chicago or OKC can both win the championship this season. The Heat are still the best team.
Ben Golliver:
The Bulls are No. 2 in defense, No. 6 on offense and No. 1 in rebounding; their closest competition, the Thunder, are ranked No. 5, No. 14 and No. 16 in those categories. So far, this one isn't as close as the records might indicate. I think Orlando – riding Howard and their point generating machine of an offense -- is a strong dark horse.