Robert Horry says Los Angeles Lakers point guard Derek Fisher is too old. Posted by Ben Golliver.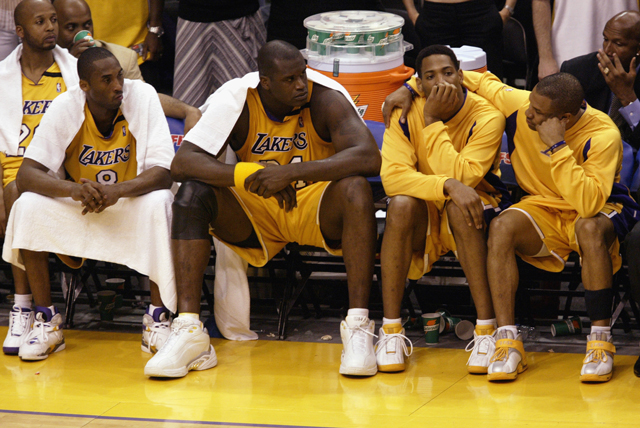 Robert Horry was one of the NBA's all-time great winners. They say you need a lot of luck and the right circumstances to win an NBA title, making Horry one of the luckiest judges of circumstances the league has ever seen.
Horry won multiple titles with the Houston
Rockets
, Los Angeles Lakers and San Antonio
Spurs
, snagging the moniker "Big Shot Rob" along the way. Never a star, Horry could be counted on to do the little things, be in the right place at the right time and step up to take an important shot regardless of how much pressure there was in a given situation. His career haul: Seven rings. More than Michael Jordan. More than
Kobe Bryant
. More than Shaquille O'Neal. Pretty nuts.
In other words, Horry knows winning.
Asked by the Los Angeles Times
what it will take for the Lakers, Horry didn't mince words, pointing the finger at the Lakers' starting point guard, and his former teammate, Derek Fisher.
"I think they need another good point guard. No disrespect to Derek Fisher. But Derek is long in the tooth. I've been there, done that. I understand that. They need to get a point guard who can distribute the ball, get people in order and not be afraid to tell Kobe [Bryant], 'no.'"
Aside from a new point guard, Horry urged minor changes over major changes.
"All they need is a season of rest. They have more time off to rest. If they don't do anything ridiculous like blowing it up, they'll be fine. Go out and add a couple more bench pieces, get some role players who don't mind doing some dirty work, and they'll be fine."
Fisher, 36, has five rings and is the president of the Players Association, so it goes without saying that he is one of the league's most respected elder statesmen. The numbers, however, aren't particularly kind to him. Fisher averaged just 6.8 points -- his lowest total in more than a decade -- and 2.7 assists last season. He didn't miss a game for the sixth consecutive season, but his lack of athleticism and quickness proved to be limiting factors for the Lakers.
On the bright side, Fisher still was able to log 28.0 minutes per game, meaning there's plenty of room to reduce his role over the next two seasons, as he's under contract through 2012-2013. It's certainly possible that his "old-man game" still has a place for the Lakers off the bench. A complicating factor with continuing Fisher in his current role is that Bryant's athleticism is also starting to give a bit too age. Pairing Bryant with a more active, dynamic starting point guard would be the ideal situation, with the option of returning to Fisher in big late-game moments should the need arise.
Fisher is one of the smartest and sneakiest players in the league, master of every trick in the book. But each new year brings another crop of super-elite athletes at the point guard position. Horry is correct here. Unless there's an extended work stoppage that allows Fisher extra time to rest his body, the time is right for the Lakers to make a change at the point.
Here's video of Horry's comments about Fisher
courtesy of YouTube user LosAngelesTimes
.