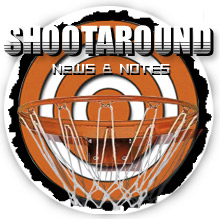 Banning bourree, Gilbert and J.J. are pale riders, and Kevin Love doesn't exactly sound set for the long-term in Minnesota, all in today's Shootaround.
Posted by Matt Moore
Just in case you missed it, O.J. Mayo appears to not have the best head on his shoulders, as he started an altercation with Tony Allen, which Allen then promptly finished by pummeling the third-year guard. No disciplinary action has been leveed against either player, and none is expected to be. The NBA has got to step in and ban gambling on planes. It's unfortunate that the players have to be treated like children but given the history of incidents stemming from gambling fights over bourree, there's simply no excuse not to ban it.
The Warriors waived Rodney Carney. You know how good the Warriors' offense is? they just cut a guy shooting 46% from 3-point land. They're bleeding shooters. Not as much as they're bleeding on defense, but still.
Lost in the talk of Love, Rose, and Westbrook joining up was this choice quote from Love's SI interview: "We'll see what happens with what David Kahn and the front office want to do," Love said. "If it's right, it's right. If it's not, it's not. I could end up somewhere else. I just want to play for a team that wants to win at this point. At this point, I just want to win now." Now, Wolves fans will say that this is they typical New York media (I'm not) talking about a star ditching his team (I'm not), despite the fact that he's starting to have success in Minnesota (he's not). Love's relationship with the front office has been strained since the installation of David Kahn and Kurt Rambis, and just because he's getting minutes, that's probably not enough to satisfy Love. Love's got quite the history of comments about a distrust with the front office.
Udonis Haslem is pushing for a March return . An issue to consider is whether Haslem will be able to effectively work his way into the rotation in time for the playoffs. If the Heat are (still) rolling, there's no reason to disrupt a lineup rotation that's working.