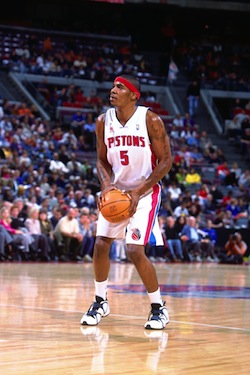 Posted by Royce Young
You may not remember Rodney White, but in 2001 the
Pistons
made him the No. 9 overall pick after an impressive career at UNC-Charlotte. He never really amounted to much in the NBA, but here he is 10 years later making headlines. Not the kind you hope for though.
According to the Charlotte Observer
, White, 31, was arrested and charged with managing what investigators called "an elaborate" marijuana-growing operation in Alexander and Iredell counties in North Carolina.
"During the search, an elaborate underground bunker was located, where detectives found a hidden marijuana grow room," Redmond said.

Investigators said the bunker was under a garage that had a trap door, and they say some of the approximately 60 plants were up to 4 feet tall.

Based on that discovery, agents got a search warrant for a residence on Montibello Drive in Mooresville. Redmond said detectives found more than four pounds of marijuana; an assortment of firearms; grow lights; planting materials; and other items used to grow marijuana. Investigators said they also found items that linked the residence to the Alexander County operation.
Detectives received a tip about the operation and the two men involved -- White being one -- admitted guilt. White is jailed under $25,000 bond, and his partner is being held under $5,000 bond.
White played parts of five seasons in the NBA but sort of fizzled out. He played some professionally in Europe and Asia but never lived up to his lottery status. During his five years he played for the
Nuggets
,
Warriors
and
76ers
before being cut by Philadelphis in 2005 and ending his NBA career. He had recently signed a contract with Anyang in South Korea.
In five seasons, White appeared in just 218 games and averaging 7.1 points per game. His best season was in 2002-03 with the Nuggets where he started 19 games for the 17-win Nuggets that year and averaged nine points a game.